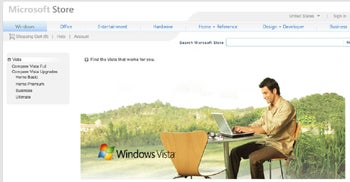 It's opening day for Microsoft's Microsoft Store. But don't expect to find any opening day bargains. I compared, and Microsoft is charging considerably more for many software titles compared to legitimate online vendors like Amazon selling identical products.
After launches in the UK, Germany and Korea, Microsoft is adding the American public to those who can now buy Windows, Microsoft Office, computer games and and more straight from the world's largest software producer. The Microsoft Store offers digital downloads for most products or you can buy regular boxed versions.
I suppose it's not surprising to see Microsoft open up its own online store, but why it took them so long to do it is a mystery.
You'll Pay More With Microsoft
However, it seems Microsoft has yet to master the art of low prices. From what we could see, Microsoft has made its products available for almost the full list price with barely any hint of a discount. For example, a full version of Windows Vista sells on Amazon for $249.99. Microsoft's price? A whopping $319.95. Microsoft Office is the same; you can pay the full $149.95 at the Microsoft Store for the student version or you can find it for $92.50 at Amazon.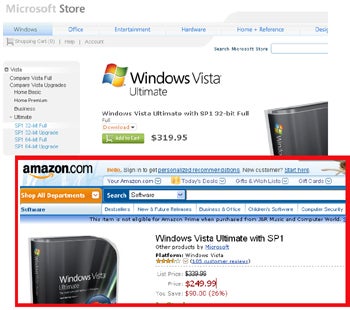 We found that Xbox 360 games were pretty much standard across the board, with Gears of War 2 going for $59.99 at most major traditional and online retailers. To Microsoft's credit, however, they did have one deal: the Microsoft Store's price for the Mac version of Microsoft Office beat out Best Buy by four cents.
If Microsoft wants to stay in the retail game, they'd better figure out the concept of competition and fast!