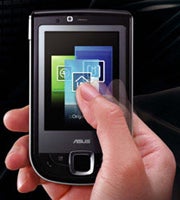 Asus is calling its new P565 smartphone the "fastest business PDA phone in the world."
It's too early to check that claim and the phone's not available yet for testing – but when has that stopped a company from bragging? The Asus P565 does indeed have some impressive specs with an 800MHz Marvell processor. That should give the Windows Mobile OS-based smartphone ample power to multitask a number of Microsoft Mobile Office apps at the same time.
The 2.8-inch 480 x 640 touchscreen is a decent size for navigating the Glide (iPhone-like) touch interface, which runs Windows Mobile 6.1 OS. Given the amount of wasted space on the P565's front, however, I'd like to see a larger display.
Wireless Data Speeds?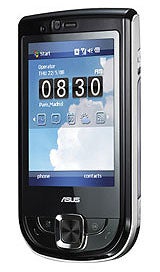 The HSDPA 3G connection speed is 3.6Mb/s. That certain isn't the world's fastest, given Europe's rapidly movement toward 7.2Mb/s and higher. Asus says standby time is 250-300 hours, and talk time is 3 hours (both with 3G).
Styling is okay, but the P565 is no head-turner. One nice touch is the black synthetic leather lining the battery lid, which Asus says commands "instant respect and attention." So that's all it takes?
You'll find the complete P565 specs here.