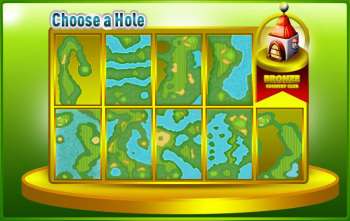 Let me start by saying that I'm generally a disaster at anything involving hand-eye coordination. I'm terrible at mini-golf, much less even able to try the real thing. So imagine my surprise when I landed a putt on my first try using an iPhone as the club–and a PC as the putting green.
This marvelous event occurred in PC World's offices last week during a demo of Social Gaming Network's iGolf, the first game on the company's iFun platform, which lets you use an accelerometer-equipped handheld as a controller for a Web-based game in a desktop browser.
SGN had previously created golf, bowling and other accelerometer-based games for the iPhone and iPod Touch (as well as a number of Facebook word and other games). But this is the first game I've seen that turns the iPhone or iPod Touch into a Wii-like controller. Best yet, it's free.
Start by signing up for an account on SGN's iGolf Web site. You can use your Facebook login, or you can create one on the spot. You'll still have to create a login for your iPhone using your e-mail address.
Then you must download the iGolf application from the iTunes app store to your iPhone or iPod Touch. Login using the account info and password you set up on the Web.
Now, back to your browser, where you click to start a game. There are three course options, but only the Bronze club is free; you have to buy SGN dollars to play the Silver or Gold clubs. (SGN's business model is based on premium services for its various games.)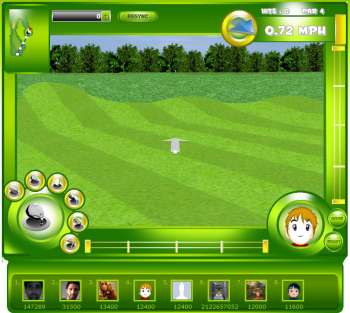 Inside the club, you now pick a hole, and then select a club (there are six drivers and putters to choose from), and adjust the direction settings. Then, tapping the word "Ready" on the iPhone/iPod Touch screen, you swing the phone as if it were a club, and watch the results on the monitor. In my test swing using a notebook that had a wireless hookup to the Internet, it was pretty amazing to see in action: There was some latency, but not as much as I expected.
You can also use SGN dollars to play for money against friends who have the game on their iPhone or iPod Touch-there's a built-in wagering system. But again, you don't have to spend a dime to try it out.
SGN plans to introduce tennis and other games soon, and to support other accelerometer-equipped devices. Me, I'm waiting for ping-pong. I was pretty good at it as a kid.