BlackBerry fans who've been yearning for a touch-based handset à la iPhone now have one, but the BlackBerry Storm–which Verizon Wireless plans to start selling Friday for $250 with a two-year contract–might not be the smart phone of their dreams.
The decision by Research in Motion to differentiate the Storm by giving its capacitive touch screen a mechanical component (the entire screen functions as a button for confirming selections or initiating actions) turns out to be more confusing than helpful. Ultimately, the Storm's touch interface feels like a failed experiment.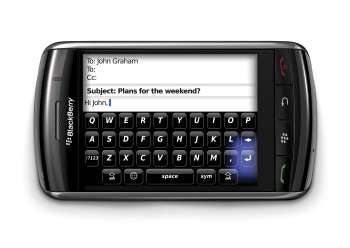 It's too bad, because the Storm has some nice features and makes a great first impression. Encased in shiny black with silvery accents on the front and a removable matte metal cover in the back, the Storm is shorter, slightly narrower, and somewhat thicker than the iPhone–not surprising since it packs support for Verizon Wireless's fastest network (EvDO Rev. A), for quad-band GSM/GPRS/EDGE, and for 2100-MHz UMTS/HSPA networks, enabling overseas roaming on the fastest networks available. The Storm also has a GPS receiver and Bluetooth, but no Wi-Fi.
A quartet of familiar BlackBerry hardware buttons sit below the 4.4-inch display. They are, from left to right, a Send button (marked with a green phone icon), which brings up the phone menu and initiates calls or dispatches messages; a Menu button (with a BlackBerry icon) to bring up contextual menus; an Escape button (with a return arrow) to close menus or go back to the previous screen; and an End/Power button (with a red phone icon) for ending calls, returning to the home screen, or turning the handset on or off. The phone lock and mute controls on the upper left and right corners, respectively, though not discrete buttons, are clickable under the casing.
Hardware features on either side repeat those found on other recent BlackBerrys. These include volume controls on the upper right; a button for activating the 3.2-megapixel camera and capturing snapshots on the center right; a voice recording button on the upper left, and a mini-USB charging/syncing port on the lower left. Above the volume controls is a port for a standard 3.5mm headset (the earbud headset bundled with the Storm was excellent, however, producing first-rate audio quality).
The Storm's accelerometer lets you use it in landscape or portrait mode for most applications (it orients the phone in portrait mode only, though). My shipping test unit powered on with the same good-looking analog-style (that is, with hour and minute hands) clock seen on the BlackBerry Flip (you can even use it as an alarm clock).
A Disappointing Touch
The touch-screen interface differentiates the Storm from its RIM brethren–and there I was disappointed. Here's a video of the Storm in action.
Though RIM generally produces first-rate hardware (especially the QWERTY keyboards that it pioneered on handhelds), I found the Storm awkward to use for everyday data entry tasks. RIM's stated intention in developing its Click-Through technology was to enable users to navigate with the touch screen and to make menu selections (most of which appear in blue when highlighted) with a fingertip; depressing the screen would confirm a selection and initiate the selected action.
But in my tests, things sometimes didn't work out that way. I'd tap a menu item, for example, but then when I depressed the screen, the selection would somehow shift and a different item would execute. At times it was difficult to figure out what action was required: In setting up the free, downloadable AOL Instant Messaging application, I had difficulty selecting radio buttons to show that I had read and agreed to the user agreement, resulting in my having to scroll through the agreement several times to try again.
Scrolling was generally slow, too. When looking through contacts, I had no way to get quickly to the general area of the alphabet I wanted to check (a nice iPhone feature)–and then scroll quickly to the appropriate entry with a fingertip swipe. Swiping moves you just a few entries in either direction, making it too time consuming to be practical with an address book the size of mine (1500-plus entries). Consequently I had to resort to typed searches to speed things up.
Click to Type
Typing on the Storm isn't much fun, either. You have to click the screen keyboard for each keystroke (the keys flash blue under your fingertips as you click), which ends up feeling like a lot of work in a way that typing on a hardware keyboard (or on the iPhone's software keyboard, for that matter) never did. I worry, too, about how well the mechanics of the click screen will hold up under the pressure of continual use by heavy typers.
There's no obvious way to make the keyboard go away quickly, either, if you want to see part of the screen that it's concealing.
I did appreciate the Storm's use of RIM's excellent SureType predictive text entry; and the decision to go, in portrait mode, with the 20-key QWERTY layout used on the BlackBerry Pearl 8120 and other narrow BlackBerry handsets was probably a good one (especially for users contemplating a migration from a Pearl).
However, RIM made one extremely annoying data-entry decision: When you enter a number, you press a key to access the numerals–but after each entry, the keyboard returns to the default QWERTY design, so you have to tap twice for each digit you enter (once to access the number keypad, and again to designate the desired digit). This may be an artifact of the way RIM's hardware keyboards work (typically, you have to hold down an ALT or similar key to enter numbers)–but when translated to software, it's a disaster.
[Note: After this review went live, a reader noted that you can in fact type several numbers in succession without having to go to the alphabetical keyboard by holding down the key for accessing the number keypad for several seconds, which essentially locks it in. The manual explains this, but the capability wasn't intuitively apparent. However I still think the alternative approach of having the number keypad remain accessible by default would have been better.]
Elusive Browser Navigation Controls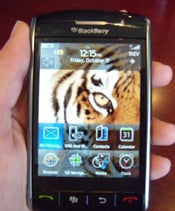 A larger screen always enhances Web browsing, but I found the Storm difficult to use because it lacks on-screen back/forward keys. To go back, you may either press the escape key or press the menu key and then select 'back', but I never found a way to move forward.
The on-screen controls let you bring up an address bar, switch between page and column views (a feature that didn't help much on sites that identified the Storm as a mobile device), and zoom in and out on a page. Unfortunately, selecting and clicking did not make for a great Web browsing experience.
Where touch wasn't a major issue, the Storm functioned well. Phone call quality was solid, and Verizon Wireless probably should get some credit for this: The Storm maintained calls that the iPhone and AT&T Wireless dropped in the same location, to the same number, at the same time of day.
I was very impressed by the audio quality of MP3 files that I listened to through the bundled earbuds, and a video movie trailer that came on my device looked pretty good. RIM says that its screen responds to lighting conditions, and I believe it: Whereas the iPhone can look dim outdoors, the Storm never did.
The Storm's camera certainly outshines the iPhone's, not only in megapixel count, but with regard to its autofocus and flash. The GPS worked well, too, both with a simple maps/written directions app and with Verizon's optional fee-based VZ Navigator service.
The Storm also comes with Documents to Go productivity apps, and of course it provides RIM's excellent support for corporate e-mail systems (though setting up the desktop software on my PC and performing an initial sync took 20 to 30 minutes, longer than I had anticipated).
The Storm comes with an 8GB microSD card; and with that addition, it has as much total storage as the $199 iPhone (if you take advantage of a $50 mail-in rebate for the Storm, the two handsets will be at price parity, too). You get a concise printed manual, a card and pamphlet with information on global tech support, and plug adapters that enable you to recharge the device wherever you may roam.
But people who were hoping for a credible iPhone alternative fortified with BlackBerry's strengths as a mobile tool for corporate travelers will likely find the Storm a disappointment. When it comes to touch interfaces, Apple still has no peer.
[Even before seeing the BlackBerry Storm, some journalists had reservations about it. Read a list of reasons to pick the iPhone over the Storm by Al Sacco of our sister publication, CIO.]