Google has been undergoing some aesthetic overhauls lately. First they whip iGoogle into a themed, paneled frenzy. Now Google has added a splash of color to the Gmail inboxes.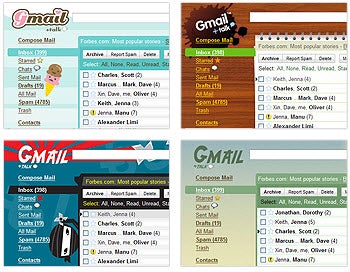 Google has unveiled more than 30 themes, and says more are on the way. You can deck out your Gmail account with a nature theme, a retro notebook look, or a weather-based theme. Most of the palates look nice, and some of the styles are busier than others, but none of them appear too distracting. None except the Terminal one, that is: Google says it's "an old school ascii theme [that] was the result of a bet between two engineers." Still, I think its awesomeness outweighs its impracticality.
To change your inbox, go to Gmail's Settings and then select the Themes tab.