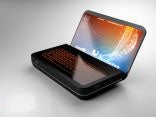 A Taiwanese research institute on Friday revealed a folding display on a smartphone that allowed its screen to double in size to 5-inches.
The mock-up smartphone, developed to showcase the screen, is styled like other smartphones and opens like a book turned on its side so when open the display is on the top half and the bottom half is the keyboard.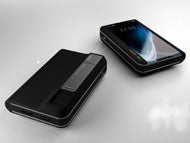 What users are actually seeing is only the top half of the display. The rest of the 5-inch screen is hidden underneath the keyboard and can be pulled up to reveal the full screen when required. To allow the screen to close down over the keyboard a 1-centimeter portion along the center is flexible.
Researchers at Taiwan's publicly funded Industrial Technology Research Institute (ITRI) developed the TFT-EPD (Thin Film Transistor Electrophoretic Display) screen with smartphones in mind.
Currently 5-inches is the only screen size available, but work is being done on other screen sizes, said Nick Vasiljevic, managing director of Pilotfish, the company ITRI hired to design the smartphone model.
But for designers, the flexible 5-inch screen does offer other possibilities, he added. The hinge and flexible part of the screen can be in different places, so the screen could bend at the 3-inch mark instead of 2.5-inch mark.
Pictures of the smartphone appear to show a break at the center of the screen, so it looks almost like two separate screens, but that's not the case.
What looks like a break is actually a software taskbar similar to the one at the bottom of a PC screen. But the taskbar on the smartphone screen can be moved so the whole screen can be used for pictures, video or anything else.
The flexible screen technology offers new possibilities for mobile phone makers, an important consideration at a time when companies are scrambling to develop Mobile Internet Devices, netbooks, smartphones and other portable gadgets. Many companies say that finding the right screen size is key to such portable devices because people want to be able to surf the Internet or watch movies on as large a screen as possible.
ITRI worked with Pilotfish on the smartphone design to show off the concept because it's seeking handset makers interested in creating products around the technology. The technology will be ready next year.
ITRI is also working to add touchscreen technology to the flexible screens, which will also likely be ready later next year.