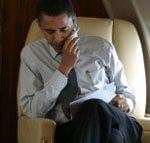 Verizon Wireless has suspended several employees who accessed account information for a flip-phone formerly used by President-elect Barack Obama, the company said in a statement Thursday.
The phone used by Obama was not designed for e-mail or data services and had been inactive for several months, Verizon Wireless said. Recently, Obama has been frequently seen using a BlackBerry.
Verizon Wireless is investigating those workers who accessed the account with and without authorization, the company said. The employees are on paid leave. Those who have "accessed the account improperly and without legitimate business justification will face appropriate disciplinary action," Verizon Wireless said.
"We apologize to President-elect Obama and will work to keep the trust our customers place in us every day," according to a statement attributed to Verizon Wireless CEO Lowell McAdam.
Verizon's investigation is likely to prompt further questions over data security. Security experts frequently warn of the danger a company's own employees can pose to data if given improper access or if they start acting maliciously.
In recent days, pundits have speculated that Obama may have to give up his BlackBerry due to concern over presidential communication going over e-mail and the risk it could be intercepted. U.S. government computer systems are frequently targeted by hackers and foreign intelligence agencies.