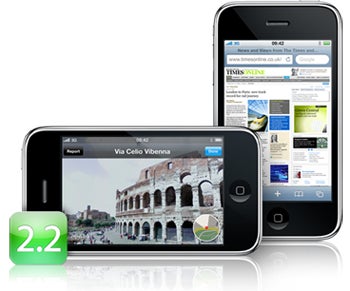 Apple unveiled early Friday a 2.2 software update for the iPhone, bringing new features such as Google Street View and over-the-air podcast downloads. The 246MB download is available in iTunes, for iPhone owners and delivers features that were previously expected and a couple of small surprises.
A major update was made in the Maps applications, which was enhanced with Google Street View and with public transport and walking directions, together with timetables, fares and estimated travel time. Also, you can view the address of where a pin is dropped on the map and even share your current location via email. To invoke Google Street View from the maps app you just have drop a pin and then press little person icon
The podcasts section has also been enhanced, so besides being able to download podcasts from iTunes, after the new update you can download your favorite audio and video shows straight on your iPhone over Wi-Fi or cellular network as well. However, podcasts downloaded over the cellular network have to be under 10MB, or a message will prompt you to use W-Fi or iTunes instead.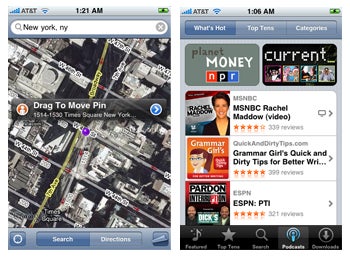 In the 2.2 update, by pressing the Home button from any Home screen, displays the first Home screen of the phone, instead of taking you back to each previous menu like the old software did. This new improvement is prone to save you some time when using apps with many intermediary menus.
There are also other generic improvements such as resolved isolated issues with scheduled fetching of email and improved formatting of wide HTML email in the Mail app and improved stability and performance of Safari. Also, a Google search bar is available next to address bar in Safari.
For those experiencing call quality problems, Apple says the 2.2 update brings a decrease in call setup failures and dropped calls and also improved sound quality of Visual Voicemail messages. And as an added extra, now you can turn on/off the iPhone's keyboard auto-correction.
Note: While iPhone users will benefit from all the latest features in the 2.2 software update, iPod Touch owners will not get the Maps application enhancements, but only the podcast and the other generic improvements mentioned above.