The iPhone has stolen the hearts of millions, but nowadays it's far from the only slick-looking touch-screen phone in town. Two recent additions to the pack are T-Mobile's G1, which launched last month, and Research In Motion's BlackBerry Storm, which came out just this week. The Storm has a great touch screen and battery life but lags on storage. In handheld video cameras, Pure Digital Technologies took some cues from the iPhone's design with its Flip Mino HD camera, which shoots high-definition video but is a bit costly. For One Laptop Per Child's XO laptops, some colorful and affordable accessories have gone on sale at ILoveMyXo.com.
Blackberry Storm
Research In Motion's BlackBerry Storm is on my holiday wish list next to the G1. Like the iPhone it can make calls, browse the Internet, navigate roads via GPS and show YouTube videos. But the iPhone and the Storm differ in many respects, and each has its own advantages.
The Storm has a higher-resolution display, at 480-by-360 pixels. It offers five-and-a-half hours of 3G talk time, according to RIM, compared to five hours for the iPhone. And the Storm has a 3.2-megapixel camera with built-in flash, besting the iPhone's 2-megapixel camera with no flash.
They are similarly sized but the iPhone is tops for weight and connectivity. The Storm weighs 155 grams (0.34 pounds) while the iPhone weighs 133 grams. The Storm doesn't have a Wi-Fi networking option, which the iPhone does, and it doesn't yet have an equivalent to Apple's App Store, but that should be coming next year. The Storm offers 1G byte of onboard memory (with 128M bytes of built-in flash memory and a MicroSD slot for extra storage), compared to iPhone's 8G bytes or 16G bytes of storage. Verizon Wireless in the U.S. bundles an 8G-byte MicroSD card to customers, a RIM spokeswoman said, though she couldn't immediately say if other carriers worldwide would offer a MicroSD card.
The decision on which to choose may come down to ease of use, for which the iPhone is famous. I haven't tested the Storm thoroughly yet, but BlackBerry devices are known to handle e-mail better, which is handier for me. The Storm is priced at US$199.99 in the U.S. with a two-year contract from Verizon Wireless. It is also available in the U.K., Australia, New Zealand and Canada.
Flip Mino HD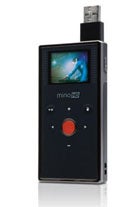 Pure Digital Technologies' sleek-looking Flip Mino HD video camera is sparse on features but high on price. It's small enough to fit easily in the pocket and simple to handle. But at $229.99 it may be unappealing at a time when many people are counting pennies.
It's not a high-end camera with frills like manual focus and optical zoom, but it is simple to use. A no-nonsense interface allows you to press one button to shoot or play back video. It has a 1.5-inch LCD screen, weighs 3.3 ounces (93 grams) and comes with 4G bytes of storage.
Running on a lithium-ion rechargeable battery, the camera can shoot one hour of video at 1280-by-720 pixel HD resolution. That's a big improvement over its predecessor, the Flip Mino, which recorded at 640-by-480 resolution. It can only be recharged by plugging it into a computer's USB port, which may be its biggest drawback; it means you can't recharge the device unless you have access to a computer. The company plans to offer an AC adapter for recharging at some point in the future, a company spokeswoman said.
After connecting the Mino HD to a PC, videos can be easily e-mailed or uploaded to video sites like YouTube. The device works with both the Mac and Windows operating systems.
If the price seems acceptable and you're in need of a lightweight video camera, this may be the one for you. It can be bought directly from Pure Digital or from online retail sites like Amazon.com.
XO accessories, not from OLPC

OLPC's XO laptops went on sale at Amazon.com on Nov. 17, and ILoveMyXo.com is now offering a complete travel pack of XO accessories. For $75 it includes a USB light, a wireless optical mouse, a 2G-byte flash drive, a LAN adapter, a stylus and headphones. For an additional $10 the store will add a laptop bag, though XO laptops already have a handle. Most of the accessories are designed to match the XO's green scheme. About 5 percent of the proceeds from sales will be donated to OLPC, writes owner Brady Pierzchalski on the company's Web site.
ILoveMyXo also sells XO replacement parts, including batteries and keyboards. Another site, XOexplosion.com, also sells XO accessories and parts.
Enjoy opening those boxes
The plastic boxes that gadgets are wrapped in are often hard to open and can even lead to cuts and bruises if you're not careful. You can now ease that with Zibra's Open It cutting tool, which is designed to open hard plastic boxes. It's even got a screwdriver built in to boot. The $12.99 device is available on Zibra's Web site and at Amazon.com for $10.30.