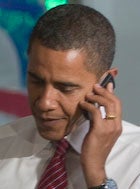 Verizon has apparently quietly fired the employees who couldn't resist the temptation of peeking at the President-elect's cellular records, according to several news reports.
Verizon had to take this action, after it had verified the breach. Any IT manager will quickly acknowledge that with access comes responsibility for respecting a client's privacy, no matter how tempting.
The news broke last week that curious workers had checked out account information for a now-closed account that belonged to Barack Obama. Carrier Verizon suspended several employees pending an investigation and quickly issued a statement declaring its commitment to customer privacy.
Verizon's appropriate reaction benefits even we mere mortals who supply personnel at phone companies, banks, and utility services with personal data that, if abused, could result in financial loss and major headaches untangling identity theft. To some extent, we just have to trust that these folk are acting as professionals.
Every once in awhile we hear of some that succumb to temptation, such as IRS employees who sneak a look at a Hollywood celebrity's tax return. Passport records are also apparently a draw.
But the Verizon incident underscores the privacy and security concerns that are the reasons it may be hard for Obama to keep his omnipresent BlackBerry after January 20. However, every CEO has security issues; one consultant suggests it can be done. Finding a way would also enable Obama to keep the technological tools he relies on, and help him keep grounded with continuing connection to his broader community.
But back to Verizon: For the cellular carrier the situation was a matter of essential business ethics, not to mention PR. Even if you're not the president-elect, will you feel less comfortable about the confidentiality of your calling record? We consumers agree to user licensing provisions when we contract with services; we expect them to hold up their end as well — and act quickly, as Verizon did, when someone represnting such a service slips. It's time for some refresher training — and probably not just at Verizon.