Games are increasingly serious business, apparently serious enough to convince the U.S. Army to green light a dedicated video games unit and earmark $50 million over five years for game-related projects to enhance soldier combat-readiness. Funding for this new "games for training" program begins in 2010.
"The Army takes this seriously," said Lt. Col. Gary Stephens, product manager for air and ground tactical trainers at Project Executive Office — Simulation Training and Instrumentation (PEO-STRI), reports Stars and Stripes. "We own gaming for the Army — from requirements through procurement."
Acknowledging the games industry's multibillion clout, Stephens says the Army wants "to take advantage of that," but doesn't intend to compete in that capacity. "We don't have the intent or capability to be a commercial game house," he said, adding that the Army's gaming unit will instead monitor industry trends and identify technology appropriate for military training.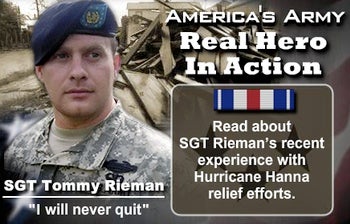 It's not clear from the Stripes piece how or even if the program relates to America's Army, the self-billed "official game of the U.S. Army." America's Army, a tactical first-person shooter based on variable flavors of Unreal engine technology, launched in July 2002 as a public relations and recruiting tool for the U.S. Army. It's been the subject of numerous popular and academic articles, many questioning whether the game improperly blurs the line between entertainment and war.
The Army already uses an alternative commercial first-person shooter based on Codemasters' Operation Flashpoint technology to train soldiers. The Army says it's shipped over 3,000 copies of the game — called DARWARS Ambush! and designed to quickly allow soldier-authored training scenarios — since the project launched in 2003.
What's next? Something called "Game After Ambush," a move to update DARWARS Ambush! with a low-cost, visually modern, more flexible training tool based on an off-the-shelf product. "We have an impending award announcement for the contract that we will make in the next couple of weeks," said Stephens.
The new game, which can play out in virtual battle spaces up to 100 x 100 kilometers, will attempt to simulate everything from urban area and convoy ops to contact reaction and ambush tactics. It's also designed to interface with the Army's real world battle command system (ABCS), which it uses to track actual equipment, enemies, and friendly forces. Imagine soldiers at desks training soldiers in the field, all linked through systems capable of simulating battlefield scenarios, and you've got the basic idea.
By September 2009, the Army expects to have 70 gaming systems distributed across 53 locations in the United States, Germany, Italy and South Korea, according to Leslie Duvow, project director for gaming at PEO-STRI. "Each system will consist of 52 computers with ancillary equipment including steering wheels, headsets and mice," she said.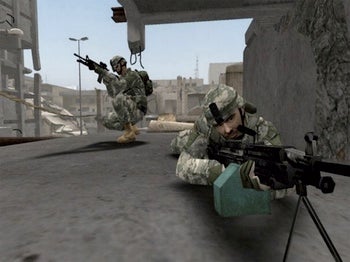 My take: Given the U.S. government's deranged money-management mentality, some of you might feel less than enthused about all this based on that $50M price tag. Understandable, but consider that the Army's DARWARS project reportedly saved the military money measured against the costs of traditional simulation trainers. It also saves in operational expenditures, say the tens of thousands of dollars in ammunition soldiers can blow through in a single day. Sounds like an attempt to be more efficient with asymmetric technology to me.