Before you deep dive on our Xbox 360 versus PlayStation 3 consumer price guide, take a few deep breaths and remember, they're just video game systems. This isn't a political campaign. The election's over. We have no dog in this fight, and besides figuring out which system has the games you most want to play, neither should you.
All better? It's been quite a ride this year with all the models announced and discontinued, components introduced and retired, and prices generally lowered across the board. That said, video gaming is still a relatively expensive hobby. While it's possible to argue the increased price of games is commensurate with spiraling production costs and inflationary expectations, the cost of video game consoles is up radically this generation. That's in part because there's simply more you can do with a console these days, ergo more parts and widgets to build into a full-featured experience.
Let's get to the numbers, but first, why no PC or Wii? Simple, really. If I pull PCs into the comparison, I get into an asymmetric quagmire involving everything from thousands of disparate computer parts to the total cost of pulling together a decent home theater system. If I add the Wii (the current darling of video gaming in terms of unit sales) I'll just confuse consumer demographics. The audience presently snapping up Wiis in droves expects a very different sort of game experience than the one you get playing something like Gears of War 2 or SOCOM for six or seven hours every single day.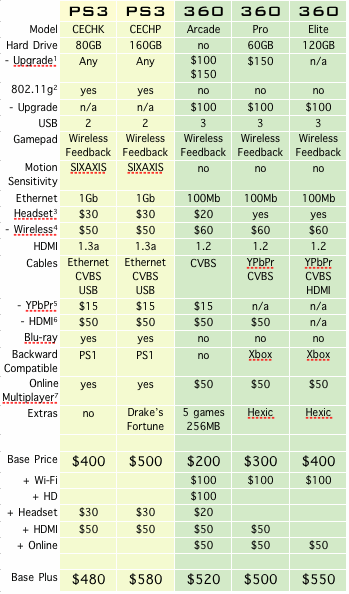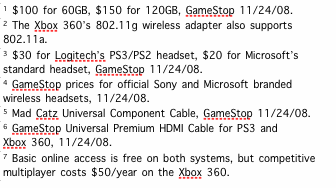 Since I ran my comparison back in late August…
What's Changed
1. Sony added a 160GB model to its PS3 lineup. In addition to the extra 80GB, this model currently comes with the regularly $60 priced exclusive game Uncharted: Drake's Fortune, a pretty terrific third-person action game that hasn't sold half as well as it deserved to.
2. Microsoft dropped its pricing on all three Xbox 360 models by $50-$80 each in early September. Microsoft further dropped the component costs of its 120GB hard drive by $30 and added a 60GB model for $100.
3. I listed Microsoft's Xbox 360 Arcade as backward compatible with Xbox games, but it seems that's not the case, according to Microsoft's own charts. If you want Xbox backward compatibility, you'll need the Pro or Elite model. [UPDATE: It is possible to make the Arcade backward compatible with Xbox games, but you need to buy one of the hard drives.]
4. Microsoft still claims it's the cheapest game system on the market — cheaper even than Nintendo's $250 Wii — which is technically true if you put your fingers in your ears and chant "la-la-la-la" and ignore the fact that the Xbox Arcade in its base configuration is a desert of things to do compared to its peers. The two best ways to determine actual value are either (a) to do a much closer capability-for-capability comparison, and/or (b) to decide what's valuable to you, and build out my chart above accordingly.
What Hasn't
1. Sony has Blu-ray optical support, Microsoft doesn't. Make of that what you will, but both companies now have extensive downloadable video libraries (and Microsoft has Netflix support). The picture quality — even at HD — pales in comparison to Blu-ray, but if you're looking for quick video-rental style viewing, the era of downloadable video is officially here.
2. Microsoft's component costs are down a hair with the $30 reduction on its 120GB hard drive, otherwise they're still murderously high compared to real world pricing for the same (or better) parts sold independently. For instance, the cost for a 250GB 2.5″ SATA hard drive is currently $110 at Best Buy, and a wireless 802.11g USB network adapter costs half what Microsoft's charging.
3. The rumors of a flash update come and go, but the PS3 still lacks PS2 backward compatibility, a real shame considering the PS2's Emotion Engine can be emulated in software, and that earlier versions of the PS3 came with this for free. You expect a company to trim redundant or unused hardware features, but support for a system with an over 140 million unit worldwide install base? Shouldn't be one of them.
4. The PS3's gamepad has six degrees of motion sensitivity, the Xbox 360's has none. On the other hand, SIXAXIS motion control hasn't really found its "killer app" yet (and if anything, probably killed at least one). So like Blu-ray, make of this "value proposition" what you will.
5. Sony's online matchmaking and multiplayer services are free. Microsoft's cost $50 per year. I've argued Microsoft should drop it's annual fee (or at least unbundle multiplayer support from the membership cost). Others see Microsoft's substantial user community — buttressed by crossover capabilities with the company's Games For Windows Live initiative — as justifying the annual cost.
Power Hungry
It's probably time you started taking power costs into consideration, if only for purely self-interested reasons. Gauging the total cost of owning a console is extremely tricky, and nailing down soft costs is like trying to pin down Heisenberg particles, but since we have recent and detailed data on power averages, have a look at the chart below to gauge whether your usage habits impact your personal bottom line.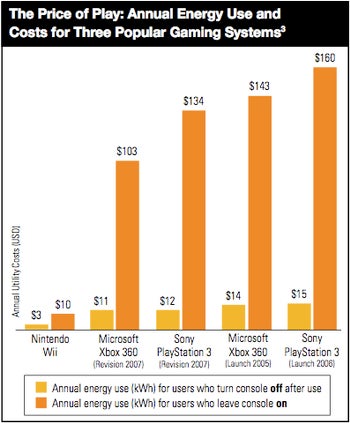 Source: NRDC Study "Lowering the Cost of Play: Improving the Energy Efficiency of Video Game Consoles."
Service Please
Don't forget the recent shifts in each console's underlying soft architecture. Microsoft's "New Xbox Experience" which debuted last week offers several new features, perhaps most importantly the company's new and exclusive partnership with Netflix (see my review, parts one and two). Sony isn't sitting idly by, either. While it's PlayStation Home service is still in closed beta, it may turn out to be an even more radical shift than Microsoft's NXE (think The Sims, except the part of Sim John or Jane Doe is played by you).
Bottom Line
Everyone has their own "optimal" configuration based on personal tastes. Some people would gladly pay more or less for access to a given franchise, or to work within the strictures of one platform's architecture versus another's. The comparisons above are meant only as a shopping aid. What you buy, why you buy it, has to ultimately jibe with your personal interests. As far as I can tell, the race at this moment has no clear price winners — it's down to picking the features (and games, if we're talking exclusives) that matter most to you.