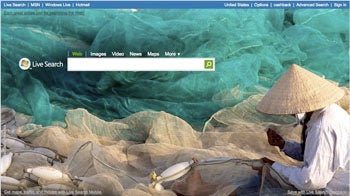 Rumors are buzzing this morning that Microsoft's Live Search may be rebranded as Kumo in 2009. The sleeping giants in Redmond, Washington have apparently been busy snapping up all the variants of Kumo: com, .net, .jp, .fr, .ru and so on. Right now the only information on most of these domains is they are being held by CSC Corporate Domains. According to LiveSide.net, watchers of all things Windows Live (hey, somebody's got to do it), CSC is Microsoft's domain registrar of choice at the moment.
Now this wouldn't mean much except that Microsoft has recently outed itself as the owner of Kumo.com, and CSC is the registrar for that name as well. It's not much of a leap, then, to assume that all the other Kumo variants CSC has locked up are also for Microsoft.
So what does this have to do with Live Search? Well, not much at the moment. The rest is pure conjecture. But we see indications that Microsoft is looking to become more competitive. Recall, of course, all the brouhaha over the company's failed acquisition attempts of Yahoo! The other red flag is that Live owns a mere 8.9 percent of the search market in the most recent numbers from ComScore; so Microsoft really needs to step up its game if it wants to compete with Google.
However, is Kumo the new name for Microsoft search? Possibly. But according to LiveSide.net and this 2001 article from Salon.com, Kumo can mean "cloud" or "spider." Some have taken that as further indication Kumo is linked to search, but why? Since when has a search platform been a major player in the concept of cloud computing? When we talk about the "cloud" we usually mean Internet applications and data storage systems like Google Docs, MobileMe, and LaLa, but not search.
So what could Kumo be? I have a suggestion, but hold on, because we are about to make a huge leap over Speculation Gulch. Here we go . . . Microsoft Chief Software Architect Ray Ozzie gave some clues during the recent Professional Developers Conference, when Microsoft described its cloud computing strategy and introduced Azure (a cloud OS), Zurich (a set of management tools for Azure), LiveMesh (online file sync) and Office Web Apps. Steven Levy drags a few more details out of Ozzie in the current (16.12) print edition of Wired (not yet available online).
Could Kumo be the official name for any of these? Why not? It makes more sense from a branding point of view, and–more importantly than a new search engine–Microsoft needs to drag its core business into the 21st century's Internet-based world. Crazy speculation? Probably. But wasn't it more interesting than boring old search?