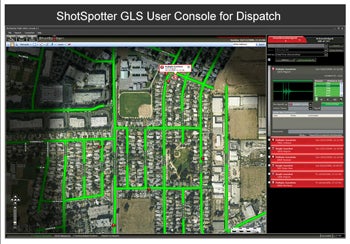 A network of electronic ears is quietly monitoring more than six square miles of high-crime Boston neighborhoods, listening for the telltale sounds of gunfire ripping, booming or crackling through the air.
The sensors are part of a system called ShotSpotter deployed by the Boston Police Department about a year ago and they can triangulate the location of gunshots and send the information back to a police dispatcher. There, a software program displays the coordinates on a map, allowing the dispatcher to give officers detailed information on the incident's location.
ShotSpotter, sold by a Mountain View, California, company of the same name, has a guaranteed accuracy rate of 80 percent, said Gregg Rowland, senior vice president of sales and marketing.
The company's systems are listening to the streets in more than 30 U.S. locations and the company recently began marketing in other countries. Systems are sold by the square mile, costing between $200,000 and $250,000 per each square mile, according to Rowland. ShotSpotter competes with products from Safety Dynamics and Planning Systems.
Boston's ShotSpotter system is alerting dispatchers to shots fired between one and two minutes earlier than the first 911 calls are received, according to Boston Police Lieutenant Harry Cataldo, who demonstrated it recently.
The dispatcher can even click a button and listen to an audio recording of the incident, giving them the ability to furnish officers with crucial information, such as the number of shots fired or whether there appears to be a gun battle in progress.
ShotSpotter only captures noises that make a loud snap, not conversations, meaning privacy is not a concern, according to the company.
The recordings it does make are chillingly crisp, judging from Cataldo's demo. It was easy to tell the difference between a firecracker's brittle pop and the sonorous, slamming-door thud of a powerful shell.
The system also provides a graphical rendering of the sound's wave form. Gunshots have an easily recognizable up-and-down pattern that looks like "a Christmas tree turned on its side," Cataldo said.
ShotSpotter can even calculate which direction a shooter has fled, as well as how quickly a shooter is moving, indicating whether the suspect is on foot or in a car.
Police are also "pinpointing and finding a lot more ballistic evidence" once on the scene, because the system knows how many shots were fired, Cataldo said.
And it also alerts police that a shooting has occurred, even if no citizen calls 911.
But in Boston at least, ShotSpotter has not yet had the sort of high-profile success enjoyed in other locations. For example, the FBI used ShotSpotter in the process of capturing a sniper who had been shooting at motorists in the Columbus, Ohio, area in 2003.
"It's not necessary an arrest tool, although that is the byproduct of it. We tend to tout it as a dispatch tool," Cataldo said.
Also, it took a while to get ShotSpotter operating effectively.
"When we first turned on the system we had rain in the area of Boston like we've never had. Torrential downpours," he said. The raging precipitation led to some false alarms, as did certain city buses, which run on compressed natural gas and have a distinctive, punchy backfire.
But after some months of fine-tuning, the system is now working well, Cataldo said.
Boston police are even in the process of integrating it with the municipal video-camera system — a move that could put eyes, as well as ears, on shooting incidents.