Though Nintendo's revamped DSi has been out in Japan since the start of November, Americans won't get to enjoy its new features-including a slimmer profile, a VGA camera, and music playback via internal memory or an SD Card-until "well into 2009".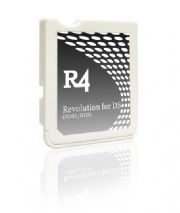 But though we don't necessarily condone it, the reality is that geeky gamers have long enjoyed music playback on the Nintendo DS. One method of doing so is to use MoonShell, a homebrew media player that supports MP3, Ogg Vorbis, and AAC files (the DSi supports only AAC).
To use MoonShell, you'll need the hard-to-find Revolution for DS (aka R4)-an unofficial cartridge used for hacking the Nintendo DS handheld game machine. The R4 is a Slot-1 cartridge that reads data from removable microSD cards.
Pop your microSD card into the provided USB card reader, insert it in your PC's USB port, and update the software (currently v1.18).
Download and install Moonshell.
With SD card still mounted, copy music files into the root directory of the card.
Eject the USB drive, put the SD card back into the R4. Power on, open up Moonshell, and pick a song!
For more information on DS homebrew and storage devices, visit the Nintendo DS Homebrew Wikipedia page.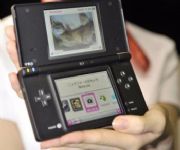 As for upgrading from my DS Lite, I reserve final judgment for when the DSi is officially released in the US. But currently, the new changes aren't terribly compelling. For starters, DSi will have a shorter battery life compared to DS Lite and will sell for a higher price- $179 as opposed to $129. Finally, the DSi will no longer be compatible with Slot-2 games or devices, such as GBA games or Guitar Hero: On Tour.