A Los Angeles real estate developer is suing Apple for patent infringement over the way the iPhone navigates Web sites. The suit, which was filed on behalf of EMG Technology, seeks unspecified damages.
EMG Technology is a company that holds the patents of Elliot Gottfurcht, the real estate developer, as well as Marlo Longstreet and Grant Gottfurcht. The company claims that the iPhone infringes on patent 7, 441, 196– a patent that was approved only last month, after a filing process that began on March 13, 2006.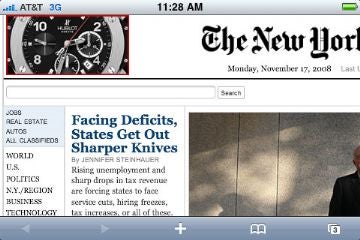 That patent is for an invention that displays "on-line content reformatted from a webpage in a hypertext markup language (HTML) format into an extensible markup language (XML) format to generate a sister site." This sister site is a simplified version of the original site that is then displayed on any number of devices–including cell phones, EMG says.
Now, it seems to me that this is a description of what every single mobile phone on the market does. Every mobile phone EXCEPT the iPhone, that is. Remember all those commercials touting how the iPhone doesn't display a simplified Web site, but the full Web page?
The press release issued by EMG claims that the iPhone uses the same method as their invention. So, doesn't every other mobile phone do this as well? Should a patent granted last month hand over intellectual property rights for every single handheld device that accesses the Web?
This is just the latest of several lawsuits against Apple for the iPhone including an allegation in January by Minerva Industries that the iPhone was similar in concept to their own idea for a "Mobile Entertainment and Communication device," and then a suit in March over visual voicemail.
EMG is represented by Stanley Gibson of Jeffer, Mangels, Butler & Marmaro (JMBM). In 2005, Gibson won a patent infringement lawsuit for Gary Michelson M.D. against Medtronic, which resulted in one of the largest payments ever for an intellectual property dispute.