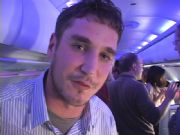 On a flight from San Francisco to San Francisco that seemed loosely based on the Snoop Dogg film Soul Plane, Virgin America demoed its Gogo in-flight Wi-Fi service this past weekend amid a cabin full of Web celebrities. (And, for some reason, me.)
PC World Media Specialist Chris Manners and I were lucky enough to get seats on the flight, and were able to shoot this short video that only begins to approximate the insane in-flight vibe.
The Gogo wireless service, which Virgin America says will be deployed on all 25 planes in its fleet by mid-2009, uses a system developed by Aircell. A receiver on the underbelly of the plane connects to a network of cellular towers across the United States to establish an EV-DO Revision A broadband link. In the cabin, passengers connect to this cellular broadband network on any Wi-Fi-enabled device.
While I was on the plane, it worked flawlessly, and it was fast. I streamed video, checked my e-mail, had IM conversations with friends, updated my Twitter feed, connected to my office network over VPN, and even Rick-Rolled my poor, unsuspecting friends. The only thing missing from the in-flight service is VoIP, which is disabled in Virgin America's Gogo service.
Although the demo of the service was free, Gogo won't be when it launches. Connectivity will cost users $10 for the full flight if it's three hours or less, and that fee jumps to $13 for flights that last more than three hours. That's about in line with what you'll pay for the in-room Wi-Fi service in most big-city hotels, and in my experience, the Gogo in-flight service was faster and more reliable. And that's even when the entire plane full of 100-plus passengers were concurrently connected–pretty impressive.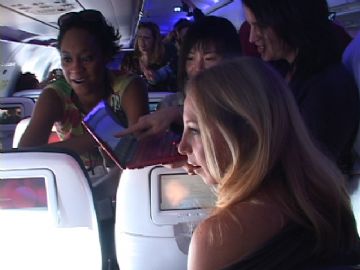 Virgin America isn't the first airline to offer in-flight Wi-Fi, but it will be the first airline to offer the service on its entire fleet of planes. Gogo Wi-Fi is already available on American Airlines, Delta is rolling out wireless networking systemwide this fall, while Alaska Airlines, Continental, Southwest Airlines, Jet Blue, and Virgin America are testing Wi-Fi or have limited trials in operation.
There was a first during this event, however: YouTube hosted its first live streaming event in San Francisco during the flight, which featured video streamed from the plane. While that was being filmed and streamed, the in-flight crew told all the passengers to disconnect from the Wi-Fi service to maximize the bandwidth for video being streamed from the plane.