Passwords are as much a part of everyday computing as e-mail and word processing. But most people I know are terrible about managing passwords. Either they can't remember them, they make poor choices when choosing them, or they've got so many in circulation, they can't keep them all straight. Sometimes it's a combination of all three.
That's why it's crucial to install and use a password manager. These programs are designed to store all kinds of critical information: passwords, credit cards, Social Security numbers, software registrations, and so on. Once you've entered your data, you need to remember only one password: the one that unlocks the program.
I use my password manager almost daily. When I buy something online, I don't have to run upstairs to find my wallet–I just copy and paste the number out of the password manager. Likewise, if I can't remember the password I chose for, say, a photo-sharing site I signed up for three months ago, I don't have to go through the "forgot password" process–I just fire up the program.
I won't say which password manager I use, because it's years out of date and I'm in the process of migrating to a new one. I will say there are countless commercial programs to choose from and a handful of freebies. In the latter category, KeePass is a popular choice, offering robust features like password generation and auto-fill (it automatically inserts passwords where necessary). You can get the 1.14 version at the above link or grab the 2.06 beta from the KeePass site.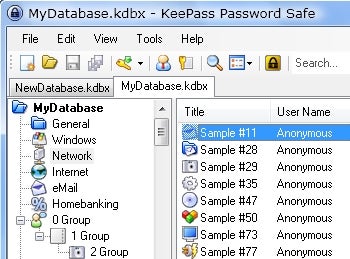 The most critical feature for me is synchronization support for whatever smartphone I happen to be using (an iPhone, currently), so I have my passwords and other data at my fingertips wherever I ago–but still protected and encrypted just in case the phone goes missing. Two programs that fit the bill are eWallet and SplashID, both simple but effective password managers.
What's your password manager of choice? Or are you still trying to keep them all straight in your head?