What would you include in the perfect smart phone? Here's a concept we've put together; it melds the top features of today's smartphones to build the dream device of tomorrow. This is not a real product….yet.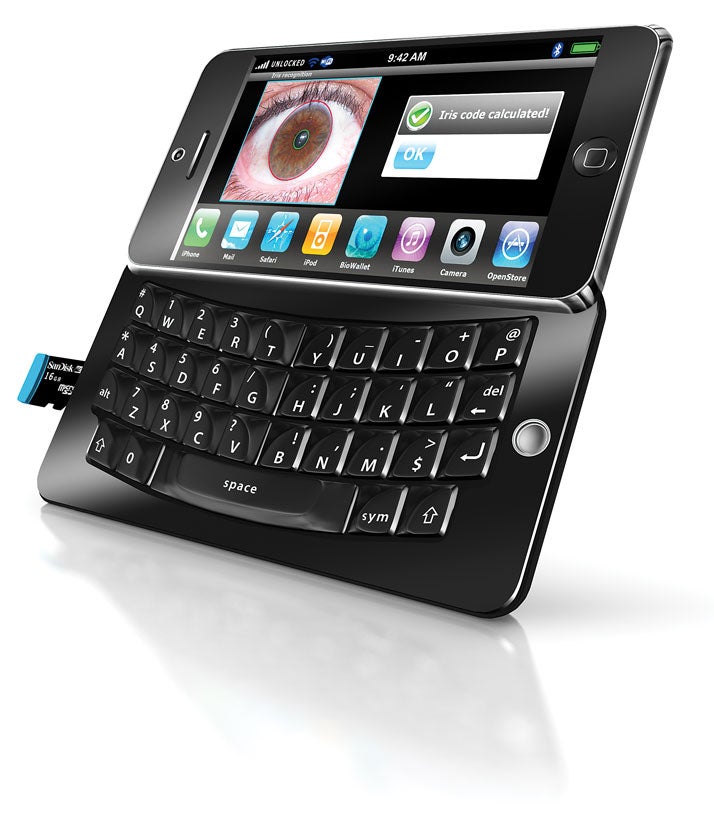 Image rendered for PC World by the talented folks at Brian Christie Design (click picture for larger image).
INTERFACE: Our FrankenPhone would add vibration feedback to the iPhone's multitouch screen, or maybe even the BlackBerry Storm's ability to depress slightly when clicked (what RIM calls ClickThrough). We love accelerometers, BlackBerry-like trackballs, and the T-Mobile G1's slide-out keyboard, too, but we would stick with the nonslip keys of the BlackBerry Bold.
OPERATING SYSTEM: Imagine the elegance of Apple's iPhone OS and iTunes App Store mixed with the openness of Google's Android and third-party Market. The result: killer apps like BioWallet, which uses the T-Mobile G1's camera as a retina-scanning replacement for passwords. Add support for true multitasking and Flash, and we'd be happy campers indeed. See our smart-phone OS smackdown for more.
STORAGE: The 16GB storage of the high-end iPhone 3G is sweet, but the support for the 16GB+ MicroSDHC card in recent BlackBerry devices and in the T-Mobile G1 is sweeter. Nokia's pricey N96 (about $800 off contract) smart phone has both.
CAMERA:The N96 also has a 5-megapixel main camera (with Carl Zeiss optics, dual-LED flash, auto-focus, and 20X digital zoom) plus a front-facing 0.3-megapixel (640 by 480) camera for video calls over 3G. We like. We'd stir this in along with a dash of the 8-megapixel, image-stabilizing Samsung i8510, aka the "Innov8."
GPS NAVIGATION: For getting around, we favor AT&T Navigator (powered by TeleNav). It has traffic, pedestrian mode, voice prompts, and turn-by-turn directions. For the iPhone, TeleNav is readying a similar application that adds even more 3D pizzazz than its version for Sprint's Samsung Instinct offers. (Of course, we'd spice things up with photo-realistic imagery and tight, Android-style integration with Google Maps.)
Next MashUp: Picturing the Ultimate Digital Photo Frame

It can be argued that digital photo frames have become a commoditized item. They're widely available, and a lack of true innovation (beyond basic Wi-Fi and media card support) makes them largely interchangable. So! What would you need to see to sit up and take notice. Here's our chance to tell the vendors what we really want to see!

Would your ideal digital photo frame include a built-in snapshot printer, photo scanner, iPod dock, boast features like Web news feeds, integrated speakers, wireless data access for e-mail, support movie playback, have a touch-screen, or just straight up look stylish?
All of the above? Which is most important to you?
Your recommendations will help shape our next MashUp render.