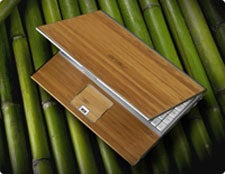 Asustek Computer plans to debut a nature-friendly laptop PC with a casing made of bamboo on Saturday at Taiwan's IT Month exhibition.
The laptop, first announced last year, is part of Asus's efforts to use renewable materials in products. The shell of the laptop is made of real bamboo, which grows fast and is used widely throughout Asia in furniture, as well as construction scaffolding, food for pandas, and in artworks.
The company on Thursday displayed the first bamboo laptop that's ready for the market. The device is part of Asus's U6V series of notebook PCs and sports a 12.1-inch screen, Intel Core 2 Duo microprocessor, and Microsoft's Windows Vista OS.
Asus plans to sell them at the Taipei IT show for NT$59,900 (US$1,802) each.
The company will launch the bamboo laptops in the U.S. and Europe at a later date, but has not decided exactly when, an Asustek representative said.
IT Month in Taiwan is a time for companies to display products and normally ends up with bargains on IT gear for consumers. The exhibition is hosted in four major cities on the island, including at the Taipei World Trade Center exhibition halls from Nov. 29 to Dec. 7.