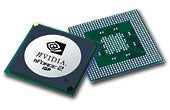 Nvidia officials on Tuesday reiterated the company's interest in the mini-laptop space but said it would wait for the market to mature before jumping in.
Earlier this year, the company made a deal with Via Technologies to make graphics chipsets to work with Via's Nano processors, which are designed for laptops and mini-laptops. Mini-laptops, also called netbooks by Intel, are inexpensive laptops with screens of 10 inches or less.
The netbook market is growing, and it could branch out into product categories such as smartphones and multimedia netbooks that can handle graphics effectively, said Marv Burkett, the company's chief financial officer, on a webcast from the Credit Suisse annual technology conference being held in Scottsdale, Arizona.
"We're not saying we're not interested; it's a matter of how the market will evolve," Burkett said.
Most netbooks today contain Intel's Atom processor and are not capable of handling video games or multimedia effectively, said Michael Hara, vice president of investor relations at Nvidia. Netbooks offer good battery life and are good for basic programs like Web applications, but they don't have the graphics capabilities to effectively play video games or video files, he said.
Netbooks could have integrated graphics in the future to better handle graphics, Hara said. Though they were tight-lipped about plans for the netbook space, Nvidia executives said the company prefers to watch the market evolve before getting involved.
The company's most likely move in the netbook arena would be to provide integrated chipsets with better graphics than most netbooks offer now. The graphics giant already provides integrated chipsets for laptops and next year will ship the Tegra system-on-chip for smartphones. Tegra puts an Arm processor core, a GeForce graphics core and other components, including a high-definition video decoder, onto a single chip.
Integrated chipsets is just one focus of the company as it tries to grow in these tough economic times. Nvidia also is trying to push further into the supercomputing space through its Tesla platform, which includes graphics processing units (GPUs) with 240 cores as well as the CUDA (Compute Unified Device Architecture) programming architecture, a set of development tools that allows programs to be executed on its graphics processors.
The company is now developing Tesla-based "personal supercomputers" in partnership with PC makers including Dell and Lenovo. It already offers such systems with Penguin Computing and Velocity Micro. Nvidia claims the systems can process data as much as 250 times faster than standard PCs, with 960 processing cores in four GPUs.