Nothing says thoughtlessness like the gift of pirated digital material, but more people may be receiving this type of illegal content this holiday season. A new Firefox extension, called Pirates of the Amazon, will alert Amazon.com shoppers whenever an illegal copy of a product they're about to buy is available on a torrent site called The Pirate Bay.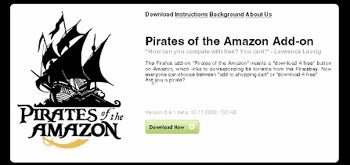 According to an introductory video by the anonymous rogues who created the add on, Pirates of the Amazon displays a large "Download 4 Free" text link whenever the extension finds an illegal copy of the Amazon product you're shopping for. It effectively turns the online retailer into a shopping mall for pirated content.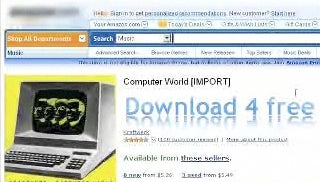 The site for "Pirates" was down as of 8:30 AM ET this morning, but it is unclear whether it has been shut down due to legal action or overwhelming popularity-the extension currently has over 2700 Diggs. Despite its catchy name, Pirates of the Amazon is not affiliated with The Pirate Bay and claims to be an "artistic project [that] addresses the topic of current media distribution models vs. current culture and technical possibilities," according to TorrentFreak.
Illegal downloads and digital property rights have been in the headlines recently. Minnesota mom Jammie Thomas had her conviction of distributing illegal content thrown out, and a new trial is pending. The rock gods AC/DC have been on an anti-iTunes crusade with their new album "Black Ice," only to discover their opus available on Torrent sites before its release. In addition, The Pirate Bay itself has faced legal action in Sweden, Denmark, Italy and from Hollywood studios. No doubt a potential face off between Pirates of the Amazon and the world's largest online retailer comes at a bad time for the torrent site and its fans.
Even though the new extension seems to facilitate illegal activity with greater ease, it is doubtful that something like this would take a significant chunk of gift giving dollars this month. We are still living in a society where stolen content is not considered a tactful gift and good old guilt and shame will most likely hold back would-be bandits where firewalls and lawsuits can't; however "Pirates" does have the potential to cut down on personal indulgences that people typically pick up while shopping for others. Then again, sometimes all you want for Christmas is the real thing.