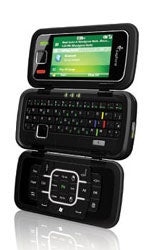 A U.K.-based mobile phone maker plans to start selling next year a novel smartphone originally built for the British military called the Icephone.
The 3G (third generation mobile telecommunications) 3-inch touchscreen handset unfolds to three panels: the screen, a full QWERTY typing pad and a game pad with multiple triggers.
"The phone changes shape to suit the task at hand," said Graham Gilmour, from The Medical Phone, of Edinburgh.
That makes it a phone, mini-notebook, gaming device and a satellite navigation system via GPS (global positioning system), said Gilmour, who was demonstrating it at the recent 3GSM Asia exhibition in Macau.
The handset gains its name from an "ICE button" just below the typing pad. Hitting the button notifies emergency services that the user is in trouble, gives them the phone's location via GPS, and provides them with the user's complete digital medical records, identification and other data. It's named after the "in-case of emergency" protocol that encourages people to have emergency contact information stored in their handsets.
The phone is rubbery, has a ruggedized casing that enables it to withstand drops of up to 1.2 meters and can survive in rain, snow or being dropped in the ocean, said Gilmour.
His company has just started manufacturing the smartphones and plans to sell them in the second quarter of next year for under US$1,000.
The specifications of the smartphone include the Microsoft Windows 6.0 OS, full QWERTY keypad, built in GPS, Bluetooth and Wi-Fi as well as HSPA (high speed packet access) over 3G networks and quadband GSM.