Update, December 23: I have corrected the URL for the PC-Decrapifier. My thanks to Jason York for bringing this to my attention.
C17SSgt asked the Forum for the steps in getting a new PC ready for use.
I'm going to assume you know how to remove the PC from the box, plug everything in, connect to your home network (that would be a whole other article), and turn it on. In other words, I assume you have the computer running, and that the operating system it's running is Windows Vista.
Now follow these steps:
1) Remove the pre-installed junk software. How do you know what's junk software? Simple. If it's there, and you don't want it, don't know what it is, or already own something that does the same job, it's junk. And it's junk if you're going to have to pay to keep using it.
If that's too complicated, try this: If it came with your PC, and it's not part of Windows, it's junk.
How? Try the free PC De-Crapifier. It's built just for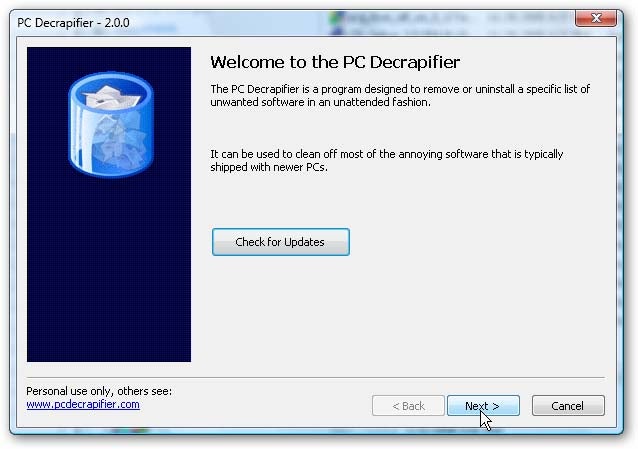 this job. If the De-Crapifier misses something, use the portable, free version of Revo Uninstaller to remove it.
2) Set up your user accounts. Click Start, then Control Panel, then the User Accounts icon. Create an account for everyone who will be using the computer, but be careful who you give Administrator privileges to.
3) Install your software. Now that you've gotten rid of the software you don't want, you can put on the stuff you do. Start with your security programs, and update them immediately. For your main applications, unless you have a very good reason to do otherwise, stick to the versions you know and love rather than the latest and greatest. That way, the new computer may really perform faster than the old one.
4) Back up your environment. Your PC came with a recovery tool–probably a hidden partition–for restoring your hard drive to its factory condition–including all that junk you got rid of in Step 1. Why not make your own recovery tool, that can recovery Windows the way you want it? An image backup tool should be just the thing.
If you have Vista Business or Ultimate, you've already got an image backup program. To use it, click Start, type backup, select Backup Status and Configuration, and press ENTER. Click Complete PC Backup, then Create a backup now. Otherwise, I'd recommend Runtime Software's free DriveImage XML.
5) Transfer your stuff from the old PC. With both the old and new PC on your network, go to the new PC and select Start, All Programs, Accessories, System Tools, Windows Easy Transfer. Just follow the direction. And if you don't have a network, you can use an external hard drive.
Read the original forum discussion at http://forums.pcworld.com/message/160852#160852.
Add your comments to this article below. If you have other tech questions, email them to me at answer@pcworld.com, or post them to a community of helpful folks on the PCW Answer Line forum.