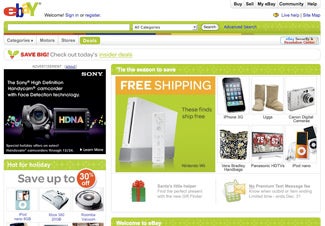 Today is Green Monday, which is expected to be a big day for online retailers. eBay came up with the term to describe the second Monday of December and Green Monday is beginning to gain ground with other online sellers. Historically, it's been more a popular shopping date than Cyber Monday, but depending on who's counting, results for Green Monday may be mixed.
Most e-commerce watchers agree that Internet retail sales are already off to a healthy start, but two metrix firms are conflicted about this year's Cyber Monday results. Despite a dramatic increase in the number of transactions on Monday, December 2, sales added up to a meager half percent higher than 2007, according to the Chase Paymentech Holiday Pulse Index. ComScore's numbers for Cyber Monday were significantly rosier, reporting Cyber Monday 2008 as the second largest online shopping day in history with $846 million spent and a 15 percent increase over last year. Only 2007's Green Monday-when ComScore says consumers spent $881 million-was bigger.
A more accurate picture will come from online retailers themselves when they report their own official numbers for the holiday season. Cyber Monday differences aside, ComScore and Chase agree that last week's cyber sales were strong. Chase says that with a global recession now officially upon us "online retail may be a bright spot in this gloomy season." Despite strong Black Friday sales, brick-and-mortar retail numbers for November were the weakest they've been in 35 years.
As December wears on, we can expect more cyber shopping as deal-hunters turn to the Web for the best bargains. With so many retailers vying for Internet shopping dollars it might be wise to snap up the good deals before your virtual competition does. A large number of e-shoppers could mean retailers will have a difficult time keeping popular items in stock. Last week the Amazon Kindle had to be dropped from Santa's list; who knows? Maybe the Wii or a cheaper iPhone will be next?