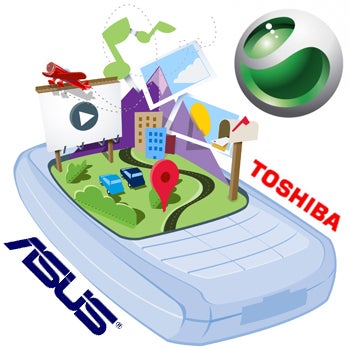 Sony Ericsson, Toshiba and Asus could launch as soon as next summer new, less expensive cell phones, based on Google's mobile operating system – Android. The companies have stated today their interest in developing devices based on Android, and joined the Open Handset Alliance together with 11 other members.
Joining other large handset manufacturers such as Motorola, Samsung and LG in the Open Handset Alliance (OHT), Sony Ericsson, Toshiba and Asus are set deploy new Android based devices within the coming year. And looking at the big picture, there's no good reason why they shouldn't.
Sony Ericsson (SE) had no prominent smartphone offerings this year – that is unless you count the Xperia 1, which finally got released after almost a year of teasing us with pictures and specs from SE. And now that the Windows Mobile powered phone is out, not many are rushing to purchase it. On the other hand, Toshiba and Asus only released devices based on Windows Mobile, and besides the powerful Asus P565, there wasn't much success in for them either.
Now, the common denominator for all the tribulations of these big mobile phones manufacturers is clearly Windows Mobile. It seems that a majority of users are falling out of love with Microsoft's WinMo, driving down sales of handsets featuring this mobile OS. Also, while others such as Sony Ericsson take ages to actually deploy new smartphones, Apple gained a lot of traction with its iPhone, reaching over 30 percent of the U.S. smartphone market.
The current economical climate also factors in Sony Ericsson, Toshiba and Asus' decision to join the OHT. Google's Android OS is a cheap alternative (actually free) to Microsoft's Windows Mobile operating system. By its open nature, Google doesn't require royalties to manufacturers who use Android on their handsets. In order, manufacturers will be able to produce cheaper smartphones and sell more devices during this recession.
And for consumers, well, the good thing is that we will have more choice. For the moment, the only Android phone out is the T-Mobile G1, which has a promising future. But let's face it, G1 is no multimedia powerhouse nor a businessman's dream. However, with more companies jumping on the Android bandwagon, we will see more diversity – Sony Ericsson could launch a more multimedia oriented phone, something like the Android Walkman, while Toshiba could target businesses users with it's new devices.
Meanwhile, if you're on the lookout for phones already announced for next year, check out 'The Next Wave of Awesome Cell Phones'.