SSL (Secure Sockets Layer) or TLS (Transport Layer Security) encrypt your email connection so that your password and messages are scrambled to eavesdroppers. If you're only connecting through a wired, office PC, you'll face little exposure with non-encrypted mail. But even with a wireless laptop on a known network–or especially Wi-Fi on a temporary network out in the world–encryption is essential. Without that protection, it's trivial for a hacker to intercept and read your data.
SSL should already be available from your mail host, although it's often not required. And for compatibility, many mail clients leave it off by default. Here's how to be sure you're making that secure connection.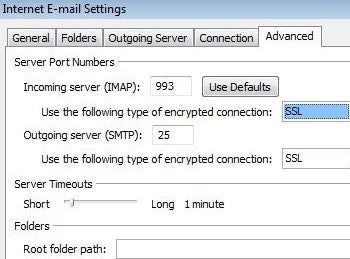 Outlook In Outlook, pick Tools, Account Settings, and double-click your account name. Click More Settings. Click the Advanced tab, and be sure SSL or TLS are enabled.
Webmail If you connect through webmail provided by your host, verify that SSL/TLS security is enabled on that page; and look for "https://" to lead the URL. If using a third-party webmail service, be sure to connect to something you trust. When needed, I use mail2web.com and click the Secure Login option for a private connection.
iPhone On an iPhone, go to the Settings app, and pick Mail, Contacts, Calendars. Tap the account name, scroll down, and tap Advanced. Be sure that Use SSL is set to On.