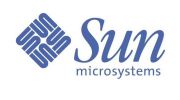 Having coined the phrase "the network is the computer" more than a decade ago Sun Microsystems could expect to be leading the march towards cloud computing, but in some ways it is still at the start line.
Sun recently pulled the plug on its Grid Compute Utility service, which was launched two years ago and allowed companies to buy computing power from Sun's data centers at a fixed rate per hour, like a public utility.
The service, which predated Amazon.com's EC2 service, is now "in transition" as Sun prepares to launch some new services, according to its Web site. Sun is still supporting customers who signed up for the Grid service but stopped accepting new customers several weeks ago.
"That was kind of an early attempt at cloud computing. We got some features right and some not right," said Dave Douglas, senior vice president in charge of Sun's Cloud Computing division. "We still think that model totally makes sense," he added.
On Tuesday Sun gathered some press and analysts together to discuss how it will tackle the cloud market moving forward. It talked about its plans only in general terms and said specifics will follow after the New Year.
Thanks partly to its early embrace of the Web, Sun has a formidable list of technologies that it can bring to the cloud market. Besides its servers and storage gear it has its Solaris OS, MySQL database, xVM virtualization software and ZFS file system, to name a few. Most of the software is open source.
The question now is how it will package that technology and persuade service providers and enterprises to let Sun be their vendor of choice for the cloud.
"A lot of the enabling technology is there. It's how they are going to pull it together and take it to market that matters," said Jean Bozman, an analyst at market research company IDC.
CEO Jonathan Schwartz formed Sun's Cloud Computing division a few months ago and it now has several hundred engineers, Douglas said. Sun also hired Lew Tucker, who helped build Salesforce.com's online AppExchange, to be the division's CTO.
Sun sees three levels of cloud computing, Douglas said. At the highest level are software as a service applications such as Salesforce.com's CRM; in the middle are cloud development platforms such as the Google App Engine; and at the bottom are infrastructure services such as Amazon's EC2 (Elastic Compute Cloud).
Sun hopes to play a big role at the bottom two levels, Douglas said. It wants to provide the infrastructure that service providers like Amazon use to offer cloud services, but it may also offer on-demand infrastructure services of its own.
Sun could offer a hosted version of its MySQL database for developers, for example, and it could launch on-demand computing services to replace its Grid utility service. But Sun won't go into that level of detail yet.
"We'll have some more formal announcements after the New Year," Douglas said.
A reporter here asked him why customers would use Sun products to build their cloud infrastructure, when many today are using industry standard servers and the Linux operating system.
Douglas argued that Sun's Solaris has several benefits, particularly in the area of management and security. A company could run Linux or Windows in virtual containers inside Solaris, he said, and then use the Sun OS for tasks like provisioning and security.
He also highlighted Crossbow, which is part of Sun's OpenSolaris project and can manage virtual network interface cards and funnel high volumes of traffic between servers running a variety of operating systems.
Nathan Brookwood, principal analyst at Insight64, asked if Sun expected companies to move legacy applications into the cloud.
"History shows that people don't write new applications all that often, they try to port them," he said. "So what happens to folks with huge Oracle or SAP apps, running on large vertically scaled servers? Can they move them into the cloud?"
"I think you'll see people leave those untouched," Douglas said. "But they may look to see if someone has a comparable service in the cloud, and switch their on-premise Siebel applications to Salesforce.com, for example," he added.
Sun acknowledged that there is much work for the industry to do in areas like security and management. And Sun needs to flesh out its xVM virtualization management software, Bozman said.
Like other companies, Sun may find it tough selling new cloud infrastructure products at a time when many companies are cutting back on spending, Brookwood noted.
"They have relationships with telecommunications and service providers," he said, "so to the extent they can find any of those with money to spend, that will be good for Sun."