The year is coming to a close, but the endless year-in-review articles are just beginning. Yahoo and Google have released their most popular queries for 2008 giving us some perspective on what the world was looking for this year. Yahoo's 2008 Year in Review came out just a few days ago, and Google's annual Zeitgeist is out today.
Zeitgeist is a German term that is loosely translated as "spirit of the age and its society." Google's 2008 edition included broad categories like "Top of Mind," "Politics," "Trendsetters," "Showbiz," "Sports" and for the first time the search company has added 30 country specific breakdowns. Yahoo's year end wrap up on the other hand includes "News," "Celebrity Brat Pack," "Olympians," "Politicians," "Influential Women," "Economy," "Farewells."
So without further ado, here are some of the lists!
The top 10 fastest-rising searches entered into Google by Internet users around the globe were:
1. Sarah Palin
2. Beijing 2008
3. Facebook login
4. Tuenti (dubbed the Spanish Facebook, an invite only social network based in Madrid)
5. Heath Ledger
6. Obama
7. Nasza Klasa (Polish social network)
8. Wer Kennt Wen (Literally, "Who knows whom?" A German social network)
9. Euro 2008 (UEFA 2008 European Soccer Championship)
10. Jonas Brothers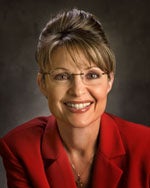 It seems the world could not get enough of Sarah Palin.
The Alaska governor and former vice presidential candidate made headlines with her gun-toting, snowmachining, "you betcha" style. Palin even dominated tech headlines in October when a University of Tennessee student hacked into her Yahoo! Mail account.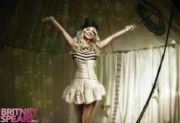 Yahoo's worldwide user base seems to prefer a little more glitz in their searches and Britney Spears, who is currently enjoying a comeback after a few years of self-implosion, topped Yahoo's list. Other topics of interest included Vince McMahon's World Wrestling Entertainment, Miley Cyrus and the only politician to make Yahoo's top 10 was the president-elect.
The top 10 fastest-rising searches entered into Yahoo by Internet users around the globe were:
1. Britney Spears
2. WWE
3. Barack Obama
4. Miley Cyrus
5. Runescape
6. Jessica Alba
7. Naruto (Japanese manga or graphic novel series)
8. Lindsay Lohan
9. Angelina Jolie
10. American Idol
Obama Gets the Vote Along With Tech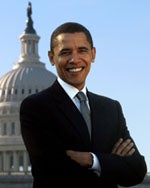 Here in the U.S., however, president-elect Barack Obama topped the fastest-rising search terms list, while Palin came in at #7.
But tech was the real Google champ with requests for Facebook, iPhone, ATT and YouTube all making the top 10.
Google's Fastest-Rising (U.S.)
1. Obama
2. Facebook
3. ATT
4. iPhone
5. YouTube
6. Fox News
7. Palin
8. beijing 2008
9. David Cook
10. Surf the Channel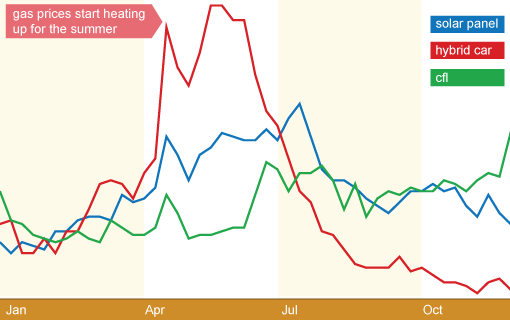 When gas prices started getting out of control this summer, Americans showed their frustration through their queries for hybrid cars. Other green searches included solar panels and compact fluorescent bulbs.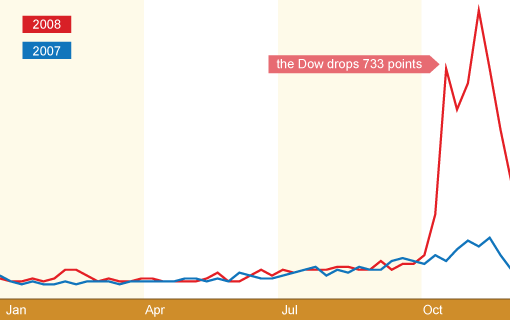 The economy was also at the top of people's concerns. Searches for economic terms spiked in the U.S. while the Dow plummeted and financial firms started collapsing.
Google's Economic Top 10:
1. Financial Crisis
2. Depression
3. Bailout
4. Mortgage Crisis
5. Wall Street
6. Oil
7. Stock Market
8. Subprime
9. Credit Crisis
10. Housing Crisis
Yahoo's Economic Top 10:
1. IRS Stimulus checks
2. Oil Prices
3. Gold Prices
4. Gas Prices
5. Dow Jones
6. Sallie Mae
7. Stock Market
8. AIG
9. Foreclosures
10. Debt Consolidation
Social networks were also big in 2008. Facebook surpassed MySpace as the number one destination, and International social networks also came to the fore. More than half of the top queried social networks were for sites outside the U.S. on Google.
Most Sought After Social Networks on Google
1. Facebook
2. MySpace
3. Hi5
4. Orkut
5. Linkedin
6. Nasza Klasa
7. Netlog (Belgian social network available in multiple languages)
8. Mixi (Japanese social network)
9. MeetUp (an online social network for groups with the intent of meeting up offline)
11. Odnoklassniki (Russian social network)
Of course nothing held the world's attention like U.S. politics this year, so Yahoo compiled its top 10 political searches for 2008. Strangely, the top four in this list almost read like a pre-election popularity poll.
Barack Wins Again on Yahoo
1. Barack Obama
2. Sarah Palin
3. John McCain
4. Hillary Clinton
5. George Bush
6. Ron Paul
7. John Edwards
8. Mike Huckabee
9. Arnold Schwarzenegger
10. Mitt Romney
You'll find a ton of other interesting lists to look over at Google's 2008 Zeitgeist page. Looking back, it would be an understatement to say that 2008 was a historic year. We watched Michael Phelps and Dara Torres make history in Beijing and Barack Obama took center stage with his historic and inspiring victory. But all the while, the economy started melting down, setting off a global crisis.
In January we start anew, and while you never what a new year will bring, it's going to be tough for 2009 to compete with all the history we just crammed into the last 12 months.