If a search for "voice record" on the iTunes Store is any indication, there's a market for voice-recording apps for the iPhone (and the second-generation iPod touch). After all, it's handy to be able to quickly take a verbal note, to capture a memorable moment, or to record a business meeting or interview. One such app is iTalk Recorder from Griffin Technology–yes, that Griffin Technology, the one well known for its iPod and iPhone accessory hardware. And the company's first foray into iPhone software is an impressive one.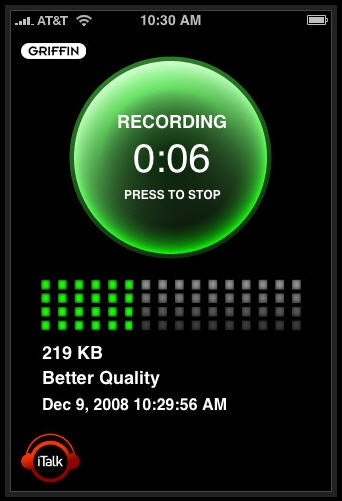 iTalk can use the iPhone's built-in microphone. To use iTalk with the 2G iPod touch, you need a headset with a microphone; for example, an iPhone headset, Apple's recently-released In- Ear Headphones with Remote and Mic, or one of Griffin's own compatible headsets or adapters.
iTalk Recorder's recording screen is simple and straightforward. First you choose a recording quality–Good, Better, or Best–and then you tap the large, red Press To Record button. (You can give the recording a name beforehand or afterwards.) The button changes to a large green Recording button that displays the current recording time; below that is a visual level meter, along with text displaying the date and time the recording was started, the recording quality, and a live-updated indicator of the recording's file size.
To stop recording, you tap the Recording button. If you want to add to the current recording, just tap the Record button again; the new audio will be appended to the end of the file. Otherwise, tap Done to save the file and view the list of recordings stored on your iPhone or iPod.
Griffin has included a couple thoughtful recording features. The first is that the screen can auto-rotate 180 degrees; this lets you view the screen properly even if you turn the iPhone or iPod touch upside down so the microphone is on top. Second, you can turn off the screen (by pressing the Sleep/Wake button) to prolong battery life during recording; iTalk Recorder will continue to record.
Recording length is limited only by the available space on your iPhone or iPod touch. According to Griffin, an hour-long recording will use approximately 75MB of space at Good quality (11.025kHz sample rate), 150MB at Better quality (22.05kHz), and 300MB at Best quality (44.1kHz). Recordings are in AIFF format. As with other iPhone recording apps I've seen, iTalk records in mono; still, I could easily hear the difference between the three quality levels–while all were suitable for basic voice memos, the Best quality offers surprisingly good fidelity.
iTalk Recorder's list view displays all your stored recordings in alphabetical order. Each entry includes the recording's date and time, size, and length. A tiny play button (too tiny, in my opinion) lets you listen to the recording using headphones or the player's speaker. Tapping a recording's arrow button reveals more information about the file; lets you rename the file; and lets you add notes about the recording.
Unlike most list views on the iPhone, you can't delete a recording by swiping across it; you must switch to Edit mode. Deleted recordings are moved to a Deleted Recordings "folder"; you can view this screen to undelete recordings or to permanently remove them from your phone.
One way in which iTalk Recorder differs from most other iPhone recording apps I've seen is that it doesn't allow you to e-mail recordings. (Retronyms' Recorder, for example, allows you to e-mail recordings, albeit with some limitations.) Part of the reason for this omission is the size of recordings: a one-minute iTalk voice memo will be over 1.2MB in size at the lowest quality level. Instead, the company provides a free desktop program, iTalk Sync, that connects to your iPhone over a wireless network to let you copy your recordings directly.
To use this utility, you launch iTalk Recorder on your iPhone and iTalk Sync on your computer, and then you select your phone in iTalk Sync's phone list. After tapping Yes on the iPhone's screen to allow Sync to connect, your recordings appear in iTalk Sync. You can drag them to a folder or the Desktop to copy them to your computer; clicking on the Info button in iTalk Sync displays additional information about the selected recording, including the file quality and any notes you added on the iPhone or iPod touch. Unfortunately, you can't rename recordings or delete them via iTalk Sync; you must perform these tasks on the iPhone or iPod touch.
(If there's no nearby wireless network, or you don't want to join a public network, you can set up an ad-hoc network on your computer and join it from your iPhone. Unfortunately, you can't connect directly using Apple's dock-connector cable.)
Having used both Griffin's approach and the e-mail approach, I find transferring audio files to my computer using iTalk Sync to be much faster–and more convenient–than sending via e-mail: you can transfer multiple files at once, and iTalk Sync's interface is easier to work with than sending each file via a separate email message. That said, if you frequently record on the go and you need to get your recordings to someone else immediately via e-mail, iTalk isn't the right voice recorder for you. It would be useful if Griffin added the capability to e-mail small recording files.
There are a couple minor glitches with iTalk that Griffin says will be fixed in the next version–for example, your iPhone's Region Format must be set to United States in order to save recordings. But overall I've found it to be an excellent voice recorder that stands out among the many me-too recording apps.
The standard version of iTalk is free, but shows small ads at the bottom of the screen during use. I found these ads to be relatively unobtrusive, but if you object, an ad-free version, iTalk Recorder Premium, is available for US$5.
iTalk Recorder is compatible with any iPhone or second-generation iPod touch running the iPhone 2.1 software update.