Sites like Askville and Yahoo Answers have long offered community-fed answers to many of life's questions (technical and otherwise). Now Microsoft is getting in on the answers act with the aptly named Microsoft Answers.
This new service is designed for a sole purpose: to address all your Vista OS-related questions. And the answers come not just from fellow users, but also from Microsoft support pros. In fact, according to the site, the "Microsoft Answers Team" has a dozen members just waiting to help out.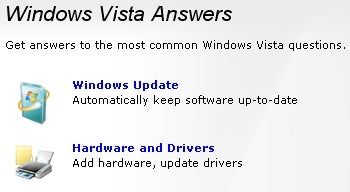 Indeed, although Answers has a search box that will lead you to various help and how-to articles in Microsoft's existing knowledge base, you're better off clicking the Find Answers tab and browsing the various categories therein: Programs, Hardware and Drivers, Improve Performance, and so on.
You can also click Ask the Community to browse a similar batch of categories, but this time you land in the site's community forums. And that's where Answers really shines: You can browse other users' questions, post a question of your own, or even pitch in your expertise if you know a solution to someone else's problem.
I'm really pleased to see Microsoft offering any kind of human-staffed support forum, even if it is Vista-centric. My usual thought when I experience a Windows-related problem is, "Well, I'm on my own." It's heartening to know Microsoft might actually be there for me for a change (though forum-based support is hardly the same as live technical support).
What do you think of Answers? Too little, too late, or a step in the right direction?