Do you have a need to create 3D models of houses, decks, buildings, home woodworking projects, and more? If so, you'll want to try the free Google SketchUp. This 3D modeling program gives you all the sophisticated tools you need, including those for creating very precise drawings, such as a protractor and a tape measure. Whether you're an architect or just want to design a backyard deck, you'll find it useful.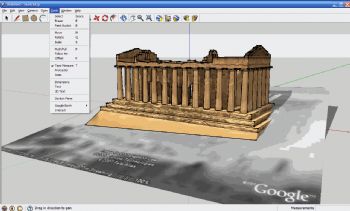 Keep in mind, though, that creating 3D models using a program like this can be difficult if you've never done so before. Be prepared to spend some serious learning time. However, the interactive help goes a long way, as does the ability to choose a template when you start. Also, make sure to watch the videos that Google has posted about how to use the program. They're each only several minutes long, but are well worth the time.
You can do more than just print your models. You'll be able to actually place them in Google Earth. And if you want to share them with others, or if you want to be able to use models that others have created, you can post them to the 3D Warehouse (http://sketchup.google.com/3dwarehouse/). In fact, if you don't have artistic inclinations, you may want to go to the 3D Warehouse as soon as you download the program, and grab models from there.