There are many things to avoid when dealing with the Xbox 360 besides the looming threat of the red ring of death, and dealing with the sensitive build that scratches those 60 dollar games so easily. Consumers should be aware of the difficulty in canceling an Xbox Live Gold account. There Xbox Live offers a basic Silver that allows you to purchase games with Microsoft points, create a profile and gamertag and use Windows Live to talk to your friends. The 'real' Xbox Live account would be Gold which allows everything plus the ability to stream Netflix to your Xbox (with an active Netflix account of course), play against people online, be on the leader boards, find players ranked to your level of skill and more. New Silver accounts get a chance to test drive to a Gold account for a month. Simple to upgrade, much like the ease of adding Microsoft points to purchase games, themes and more from Xbox Live. However what they didn't make easy was the ability to cancel your Xbox Live account.
Privacy advocates be warned Microsoft's Xbox.com will not remove credit card information once it is entered into their website. People have have asked why they are unable to remove their own credit card information and they said that they simply don't do that. Much like refunds if you happen to say use your credit card to purchase a year subscription and then are automatically billed the next year. In order to cancel your account you must call 1-800-4MY-XBOX. After talking to a customer service representative on why they don't allow you to cancel your account online the standard 'security' was their prearranged answer. I questioned why it was so easy to add Microsoft's points and spend someone's money if they can get into your account but what was so harmful is someone might cancel your account? They send you an email when your account status changes. Chances are you would never miss a beat, and you wouldn't even need to reenter your credit card number! Security is such the top priority to Microsoft that if someone had access to your account they could easily answer every question that was asked by the Xbox Live support in order to verify your identity and cancel your account anyway. Including full name address gamertag and the last four digits of your credit card number.
The customer service representative often referred to the terms of service, and the fact that "Most companies don't allow you to cancel your account online." I noted that the only other place I've ever ran into that required a phone call to cancel your subscription was Netzero. Which has recently been in a class action lawsuit for overcharging clients after they have canceled their accounts. Microsoft should consider future customer loyalty in the gaming system market and the sales of more then just Xbox Live. So you might get to charge a few people one more time then they intended, but the repercussions of losing a customer and trust are far more reaching. For anyone wishing to avoid the hassles of canceling, and having your credit card information engraved upon Microsoft's website you can always purchase an Xbox Live subscription card.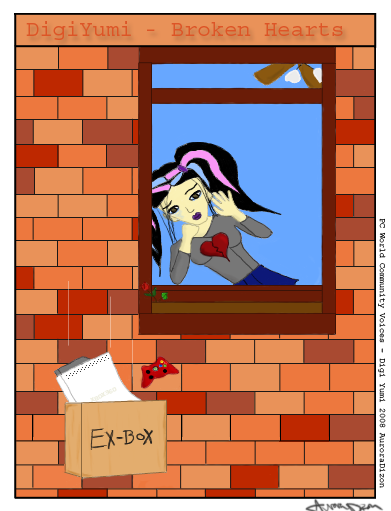 Article written and illustrated by AuroraDizon.