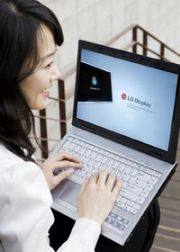 LG Display has developed an LCD (liquid crystal display) module that it says looks as good outdoors in sunlight ads it does indoors and plans to unveil it CES in January in Las Vegas.
The 14.1-inch display is intended for laptop computers and allows users to switch display modes to suit the location.
All LCD panels require a light source to make the type and images on the screen visible to users and the source varies depending on the type of panel and its intended use. Panels like those in most laptops and televisions use illumination from a backlight panel behind the screen that results in an image that looks good indoors but is not bright enough to be seen outside. Reflective panels use a mirror behind the screen to reflect ambient light for a brighter outdoor image but one that looks dark indoors.
Halfway between these two technologies are transreflective panels that have both a mirror and backlight behind the panel and offer a compromise between the two types of display but don't excel outdoors or inside.
The new LG Display panel can be switched between backlight mode, when indoors, to reflective mode, when outdoors, at the touch of a button allowing the best of both technologies without any compromise, the company said in a statement. An added benefit of this is that when the screen is switched to reflective mode the backlight turns off and battery life can be extended.
The contrast ratio when used outdoors is 9:1 on the new display versus around 3:1 on a typical laptop display, LG Display said.
LG Display will offer its first demonstration of the screen at CES. The display is still a prototype and there are no immediate plans to commercialize it.