You've got to love a software company that would actually name a program Fruity Loops. It's now been renamed FL Studio to rein in the more staid customers, as well as reflect the program's move from a strictly loop-based (arranging looped samples into songs) into a far more versatile sequencing and editing package. But still…you've just got to admire them.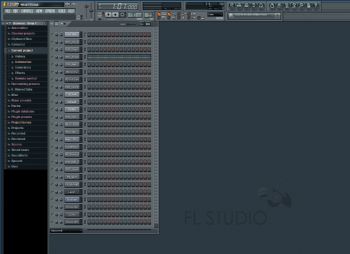 The first thing you'll notice about FL Studio is that it's one nice-looking program with an interface treatment makes you want to dive right in and explore. The interface mimics to a great extent an old beat box or step sequencer. Depending on your background, it may take some getting used to. I'm more of a track-based, linear guy, so it took me took a lot of time with the manual. If what you're looking for is a great looping and step editing for dance music, you can't beat this program (except possibly with Ableton Live). You can force track-based arrangements, but that's not FL Studio's forte. Those statements are a synopsis by the way–there's no possibility of covering the myriad of features in a short review.
Feature-wise, the $49 Express version of FL Studio lacks the Edison wave editor and Slicex beat editor, some of the more useful advanced arrangement features and the ability to act as a DXi/ReWire/VSTi client within other sequencers or DAWS (Digital Audio Workstation software). If you don't know what that last means, you won't miss the feature. The Express version still has plenty of step-sequencing features, a number of software synths, and the DirectWave sample player though output is limited to 16-bit/44.1kHz which is only a hindrance to pros. The demo is a fully-functional copy of the program; however, although you can output a final mix to audio, you can't actually save the project.
The thing I love about FL Studio is that you only buy once–updates are free–and every new version has addressed user wishes and added significant functionality. Not only does the company have a sense of humor, they have a sense of honor. Well worth the download (and it'll always be Fruity Loops to me).