If you're interested in sharing your PowerPoint presentations as DVDs to be played on a DVD player, this program gives you a simple, no-fuss way to do it. Wondershare PPT2DVD burns a completed presentation to a DVD, and includes all aspects of it, including transitions, music, videos, and so on.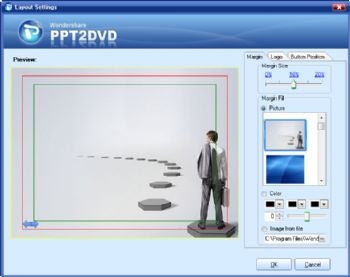 PPT2DVD is exceptionally easy to use. Import your presentation, then choose the proper standards for playing on DVD, such as NTSC, PAL, or SECAM, as well as the aspect ratio, either 4:3 or widescreen (16:9). If you're not sure of the standards, just choose the country where the DVD will be played, and the program chooses the right standards for you. You can also choose the output quality, and other specifications, such as the size of the margin around the presentation, or simply leave the default.
After that, choose the DVD title menu, the play options (such as auto-play mode or not), and PPT2DVD builds a preview of what the presentation will look like when played as a DVD. That way, you can go back and edit it if you're not satisfied. Once you're satisfied with it, the program burns it to DVD. You can burn to normal DVDs or high-definition DVDs. In addition to burning your presentations to DVD, you can instead turn them into a variety of formats, such as .wmv, .avi. mpeg1, and mpeg2 suitable running over the Web, or via a variety of PC-based video players.
Why share presentations via a DVD rather than PowerPoint? Sending big PowerPoint presentations via e-mail can be problematic, because some mail providers and ISPs have a limit on the size of files you can send. And if for some reason you need to send a presentation to someone without a PC or copy of PowerPoint, this is a good solution.
Most people won't likely need to share presentations via DVD, so won't want this program. But for anyone who wants to share that way, PPT2DVD makes it easy.
Note that the program makes an odd change to your system if you use Vista; it turns off User Account Control (UAC). So you'll need to turn UAC back on after installation, if you want to keep using UAC.