What would the ultimate full-size laptop need to include to convince you to ditch your desktop for good? Our dual-screen laptop concept merges some of the best tech from Apple, HP, Intel, Lenovo, Toshiba, and others, along with some old-fashioned "if only" whimsy. Read on for the full parts list, and let us know what you think.
Image rendered for PC World by Brian Christie Design (click through for larger image).
TWIN, SLIDING SCREENS: These bright, glossy-coated, OLED wide screens support hover and HP TouchSmart PC-style multitouch input; plus full high-def. The left display slides across and closes over the right screen to pack down. Tilt and swivel adjustments are also possible. Back in the real world: Lenovo just announced its ThinkPad W700ds laptop, a desktop replacement with a 17-inch primary display, plus a 10.6-inch secondary screen.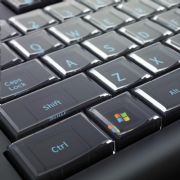 KEYBOARD AND TOUCH SCREEN: An Optimus Maximus-style keyboard (each key has programmable OLED displays; pictured) is paired with an Apple-inspired full-width, multitouch, pressure-sensitive glass screen for the touchpad, widgets, and more. The keyboard and screen can also be removed to sit on your desk or even swap positions.
INSIDE: Intel's mobile Core i7 CPUs should hit in early 2009; its next-gen "Calpella" platform is expected by year's end.
DUAL WEBCAMS: Able to support multiparty, HD-capable video chat, and optimized for low-light situations.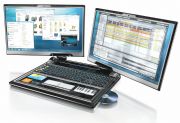 SPEAKERS: Harman/Kardon stereo speakers with underside subwoofer–like those found in Toshiba's Qosmio notebooks. We'd also take the SLI graphics, HDMI port and S/PDIF interface from recent Qosmio models, such as the X305.
BLU-RAY SLOT DRIVE: Able to burn BD-R and BD-RE discs at 8X;supports DVD±RW, too.
Related Links
Next: The Ultimate Ultra-Portable Laptop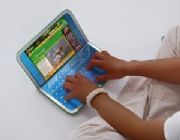 So, what did we miss in our full-size laptop design? Brainstorm with us below. While you're at it, we'd love to hear your ideas for your dream lightweight laptop. That's next on our list.
Would you want it to be inexpensive like a Netbook, yet elegantly designed like a business-class ultra-portable? Would it boast a Gobi chip for wireless data (able to switch between EVDO and UMTS/HSPA); what about dual-screens like the One Laptop Per Child concept design (pictured)?