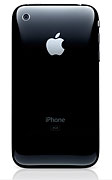 The iPhone world has been clamoring for this one for awhile. And what better way to start the new year then by playing around with the Dev Team's newest creation–an official unlock for the iPhone 3G. We'll run through the basics of this wonderful little tool and show you exactly how you can jailbreak and unlock your phone. You'll be able to run as many third-party applications as you want on your device. And more importantly, you'll be able to use your iPhone on any cell phone carrier you want.
What's an Unlock?
Unlocking your phone allows you to use it on any carrier you want, not just AT&T. You'll pop out your AT&T SIM card and insert the SIM card of a different carrier. The iPhone doesn't allow you to do this normally, so a little bit of hacking is involved.
Is it safe? Will I break my iPhone?
Possibly. There's always the worry that the unlocking process will royally screw up your phone–but the only way to deal with that is to read the situations of others who have attempted the procedure before you. As long as you follow the instructions closely, you will greatly reduce your chances of bricking (screwing up) your iPhone. Beyond that, once you've unlocked your iPhone, you'll want to approach new iPhone updates with suspicion. Don't just click "update" in iTunes–wait for the various iPhone hackers to release (and safely test) new tools that will allow you to redo the same procedure on the new firmware.
Is it easy to do? Hacking an iPhone sounds difficult!
It is. It used to be difficult, but a number of one-button (or two-button) programs have emerged that greatly simplify the process of doing evil things to your iPhone. Don't worry. Even a cat could unlock an iPhone at this point.
How do I do it?
If you want a picture step-by-step, this link will walk you through the 3G unlock. But for the most part, unlocking a 3G iPhone is easy enough that we'll just need a few steps to tell you how to do it. Here we go!
1) Upgrade your iPhone to the 2.2 Firmware
This one's easy. Fire up iTunes and update your phone to the latest update, 2.2. If you've already done this, then you are one step ahead of the game. If not, you accomplish this task by clicking the "Update" button. Magic! Be sure to backup/sync your phone prior to doing so, and write down any note, programs, or settings you want to keep!
2) Pwn your Phone
Download Quickpwn. This is the application you'll use to jailbreak your phone prior to unlocking.
Connect your iPhone to your PC all USB-style and fire up Quickpwn. The program is as self-explanatory as a jailbreaking application could be. Select your phone. Select your phone's firmware (which should appear naturally, as you did the update through iTunes. If not, download it here). Install Cydia or Installer (we prefer the former). Follow the directions. Enjoy a hot cup of tea while you wait.
3) Install the application repositories
If you opted to install Cydia, fire up the application on your newly jailbroken iPhone and add the following application repository: http://apt9.yellowsn0w.com/
If you went for Installer, add this repository: http://i.yellowsn0w.com/
If you have no idea how to add a repository, fiddle around in each application's settings and options menus. It'll be there, trust us.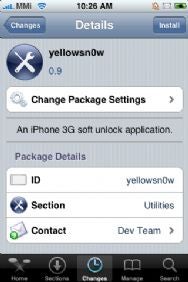 4) Install yellowsn0w
Use either Cydia or Installer to install yellowsn0w. Once the server finally lets you do so (it's getting hammered right now), run the application. Then turn off your iPhone. Grab a paper-clip and follow these instructions to pop out your SIM card. Slap in the SIM card from the new carrier you want to use. Turn on your iPhone. If the carrier doesn't pop up after a bit of a wait, repeat the process to remove the SIM and try doing it again.
5) Crazy Troubleshooting
Switching to T-Mobile? Turn off 3G on your iPhone settings (under Networking) before switching SIM cards.
Turn off any PINs on your SIM card before making the switch.
Make sure you're using the latest version of yellowsn0w. It should update in the Cydia/Installer menus automatically, but you can always make sure that the available version matches the newly released version by hitting up the official Dev Team blog.
We'll be monitoring the 3G unlock all day, and we'll let you know if we come across anything else! And you can always leave comments about the success / destruction of your iPhone 3G below.
16GB iPhone 3G
Price When Reviewed:
$239.99
Read our full
16GB iPhone 3G review