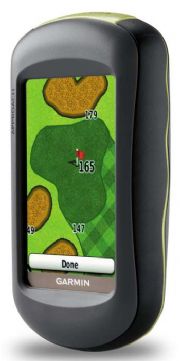 Golfers, take note. Garmin's newest GPS line may not improve your handicap, but at least you'll know exactly where the greens are. The Approach G5, the first Garmin touch-screen handheld designed for golfers, will come preloaded with detailed maps for thousands of U.S. golf courses–no subscription required.
With a tap on the waterproof 3-inch touch screen, golfers will have access to precise information on their current location as well as distance and position data about fairways, hazards, and greens, Garmin says. Two AA batteries will power the device.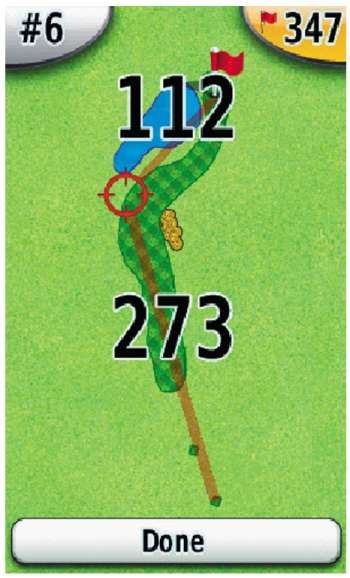 Garmin is showing a prototype unit at the Consumer Electronics Show this week; the unit is expected to ship by midyear with a list price of $500.
Garmin also announced the Zumo 660, a new and more Nuvi-like (read: thin) addition to its GPS line for motorcyclists. Like previous models, it features "glove-friendly" controls, including oversize buttons, and easy access for lefties. Garmin says the Zumo 660 will ship by spring with a list price of $800. Here's a screenshot: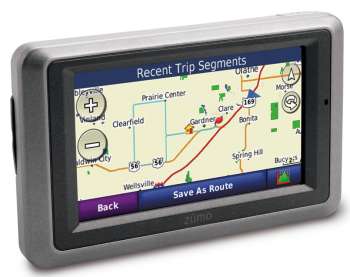 Garmin's CES announcements include word of two updates to its popular Nuvi portable GPS line (the lower-end Nuvi 265T made our most recent top 5 GPS chart). The $800 Nuvi 885T includes both speech recognition and lane assist (detailed guidance on freeways, shown in the image below) with junction view, and it adds Doppler weather maps and flight status information to existing MSN Direct content (traffic, movie schedules, gas prices, basic weather, local events, stock quotes, news, and support for Web data entry). MSN Direct uses radio airwaves to deliver data to a range of devices.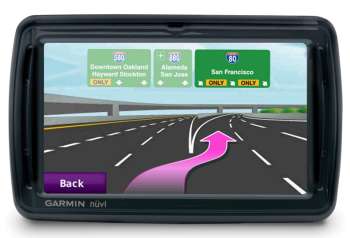 The $700 Nuvi 855 has the same on-board features as the 855T but does not offer MSN Direct services or Bluetooth support. Both the 855 and the 855T are slated to ship by spring.
Garmin also made a couple of software announcements. The company is making available via free download a new feature called EcoRoute that gives drivers the option of routing based on least fuel consumption (in addition to fastest time and shortest distance). The company says EcoRoute is immediately available for download onto Nuvi 2×5 and 7×5 models.
Finally, Garmin announced a new single-fee map update program for Nuvis. Called NuMaps Lifetime, it will make updates available (via desktop download and USB cable hookup) up to four times a year for the lifetime of the Nuvi product; the subscription cannot be transferred if you sell your unit, however. Three packages will be available starting January 21: a $120 program for North Amercan maps, a $140 program for European ones, and a $150 program for transatlantic maps. Garmin will continue to sell one-time map updates for $70 each.