Double-entry bookkeeping is great–if you understand it. For those of us who don't have the time or inclination to learn that most worthy system, a single-entry application such as iCash could be just what the doctor ordered. Simple it may be, but the $40 iCash will certainly help you keep your expenses and accounts straight. It also has charting and reports to help you get a handle on your overall financial picture.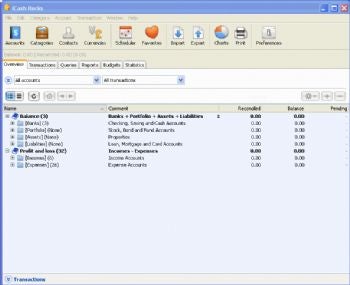 With everything within easy reach on the tabbed main page, iCash is very easy to get around. Another bonus: the company has thoughtfully filled in demo entries for you in many areas. But the help file is limited to telling you how to use the program. It's light on advice on how to start or maintain your books, so users looking for more of a helping hand in that area might be better off with Microsoft Money or one of the Quicken products.
I can't sum up without mentioning my favorite iCash utility–the Currencies dialog, which hits the Internet to check and display the current major currency rates. The demo version of iCash is limited to 100 transaction and 100 accounts–plenty for you to get an idea of whether the program is right for you or not. If you like everything right in front of you, it might be.