The Apollo Expert UX doesn't come in cool colors like competing portable external hard drives; instead, it has a cool, unusual design that shows the company paid attention to both form and function.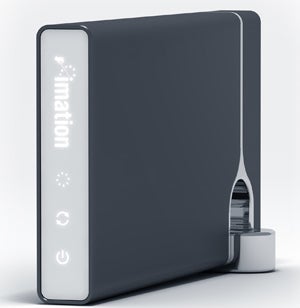 The black drive has a metallic finish and a built-in, shiny-silver oval stand that has flips out so you can use the drive vertically in lieu of simply resting it horizontally on a surface. This drive design made it a finalist in the 2009 Storage Visions Conference's Art of Storage awards.
The drive comes with a protective rubberized sheath to protect it from scratches, but you probably won't bother with it, since it's hard to slide on (or off). A button on the back of the drive initiatesa data sync, and it comes with ArcSoft's TotalMedia Backup software.
Imation has also introduced the big brother to its portable hard drive: The Apollo Pro UX. This desktop-sized hard drive features design touches that are similar to those found on the Expert UX, with a flip-out stand, backup button, and convenient software.
Both drives will ship later this month, with prices starting at $110 for the 250GB portable drive (320GB and 500GB versions also will be available) and $120 for the desktop drive, depending upon capacity. Later in the first quarter, Imation also will launch a 1.5TB version of the Pro UX.
For all the latest CES news, check out our complete coverage of CES 2009.