Asus is one of those companies that always manage to come up with funky designs, new ideas, and out-there prototypes. So it isn't surprising that the trailblazing PC maker is at it again, showing off a number of new laptops at CES. Among them are an ultraportable that runs like a race car (the Lamborghini VX5), a tablet PC (the Eee PC T91), and an even slimmer, sleeker netbook.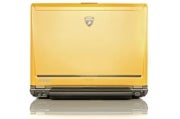 Yeah, I know–a car-branded laptop. (Anyone remember the Hummer- and Jeep-branded ruggedized notebooks, or the fire-red Ferrari ultraportable?) Regardless of the name, there's no denying that the high-style Lamborghini VX5 is a premium machine. We kicked the tires on its predecessor, the VX3, and I'm happy to say that Asus decided to tone down the blazing-yellow lid a little on this one. (I mean, you could see last year's model in a New England fog bank.) The VX5 is largely black, with yellow highlights inside and a whole lot of Italian leather stitched into the carbon-fiber chassis.
Other highlights include a backlit keyboard/mouse combo and an ambient-light sensor akin to what you see on the MacBook Air. Revving underneath the hood (and you think I'm just being metaphorical…when you powered up the VX3, you'd hear a car roar) is an Intel quad-core processor, up to 4GB of DDR2 RAM, room for two SATA hard drives, and "the latest GPU."
Besides being able to run Windows Vista on its 16-inch, 1920-by-1080-pixel display, the VX5 also offers an ExpressGate mode; this Linux shell boots up in 8 seconds and provides access to the most basic multimedia and online functions. Among the other features are a 2-megapixel Webcam, a TV tuner, and 802.11n and Bluetooth 2.1+ EDR support. That's saying nothing of the wireless broadband built into the device, and the fact that it is WiMax-ready.
Asus's second-sexiest model, the S121, technically isn't a netbook. Nor is it a further refinement of the already-refined N10Jc, according to Asus. The less-than-an-inch-thick metallic frame with leather trim houses a machine that attempts to fill the void between netbook and notebook. While the S121 does have an Atom processor, nobody will mistake it for a budget box after a look at its 12.1-inch, LED, active-matrix TFT, 1280-by-800-pixel display (presented with edge-to-edge glass) and its roomy 128GB solid-state drive.
Gone are the days of the cheap, toylike netbooks that adult hands could barely use. Whereas the N10Jc impressed with its long battery life and solid performance among the netbook set, the S121, Asus claims, can survive upward of 10 hours on an internal and external battery working together. Now that's a smart idea; I'd like being able to swap out external batteries on the fly during writing marathons.
The S121 could be a great, lightweight (about 2.6 pounds), road-ready companion. But it will be facing a lot of stiff competition in the coming year, from, say, the surfacing of a new tweener class of portables using everything from nVidia's Ion platform to Via Nano processors and whatever else AMD has to show off. Just keep checking back this week for our complete coverage of CES 2009 to see what I'm talking about.
The other big laptop coming from Asus's stables is the only one clinging to the Eee name: the Eee PC T91 Tablet. Think of it as a touch-screen variant of the 8.9-inch, 901-series models that broke out on the scene in 2008. This hybrid netbook operates the same way as full-blown convertible laptops do, offering a screen capable of rotating 180 degrees. The T91 will offer built-in GPS functionality, a TV tuner, and an FM transmitter. It has the potential to be one well-rounded, affordable, portable entertainer.
Just don't ask me how fast any of these machines are yet–or how much they cost–because Asus isn't saying squat. In fact, many of the build choices are still being determined. According to a spokesperson, specs and features may change slightly at this point, but he was quick to assure me that the VX5 will launch in the near future.