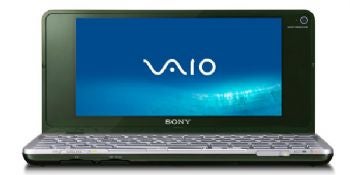 Sony's big news announcement at CES involves a very tiny package. But don't call it a netbook. Sony spokesfolk were adamant that–even though the newcomer packs an Intel Atom processor and 2GB of RAM–this superslim P-series computer is a lifestyle machine.
The distinction sort of makes sense, too: At the $899 starting price that Sony expects the unit to command when it ships in February, it had better do more than be small.
Small it's got down: Weighing 1.4 pounds and measuring about 1 inch thick, the pint-size PC can slide snuggly into a coat pocket or purse. But inside the P series are such impressive components as a 60GB hard-disk drive (you can invest in a 64GB or 128GB solid-state drive if you prefer), a battery that promises 4 hours battery life (8 hours with the optional battery upgrade), 802.11n Wi-Fi, Bluetooth, and Qualcomm's Gobi chip set for wireless broadband. That's on top of what you'll find inside any computer that sports an Atom processor: two USB ports, a headphone jack, a display/LAN adapter connection, a Webcam with built-in mic, an SD Card slot, and a Memory Stick card slot. Technically, I think that outdoes the MacBook Air. And all of this goodness sits inside a slim, screwless case that will be available in several colors.
Of course, the screen and the keyboard are crucial components. The device was built around a QWERTY keyboard that is 88 percent the size of a standard desktop keyboard, and we won't know whether it is comfortable and usable until we conduct some fingers-on testing. Sony laptops typically have sweet screens, so I'm anxious to see this backlit LED up close and personal–especially since the P-series notebooks have a resolution of 1600 by 768 pixels, a 16:7 aspect ratio. Sony reps say that the screen will allow users to view two full Web pages side-by-side, but I'll have to see it before I believe it.
In another bit of derring-do, Sony plans to have this machine run Windows Vista Basic rather than Windows XP–the usual operating system of choice for thin-and-light-on-horsepower laptops. This design decision could prove to be a performance stumbling block for Sony's wünderdevice, but the proof will be in the PC World Test Center's lab results, which are still to come. At least Sony has taken a cue from the HP Voodoo Envy 133 and from Asus's laptops by incorporating a quick-launching (20-second startup) Linux shell. The Instant Mode boots into a cross-media bar interface that should be familiar to anyone who has ever used a PlayStation 3.
Until I actually use this thing (I may try to swipe one during the show), I won't know whether a typical ham-fisted male adult will find the P-series machine even remotely usable. I sure hope that it's up to the challenge posed by my mitts, though, because it's a tempting box of lifestyle.