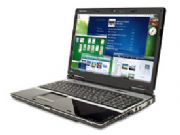 Coming out of CES, Gateway is going great guns in the sub-$1000 laptop category.
The strategy has worked out well so far, as the company's machines (such as the P-6825) grace Best Buy store shelves. But the two Gateway models unveiled this week–the MD series and UC series–take different approaches to achieving a three-digit price tag.
The MD line is a more aggressively priced take on Gateway's MC series of all-purpose entertainment laptops (for details on a representative model from that series, check out my review of the Gateway MC7803u).
Where MC units have edge-to-edge glass and a leather trim strip on the lid, the new MD model cuts a couple of corners to hit a $699 starting price. Its 15.6-inch, 1366-by-768-pixel screen offers a 16:9 aspect ratio. Though the baseline model won't include Blu-ray (to take advantage of the HDMI 1.3 output), that option is available as an upgrade. You can also pay more to kick the RAM up to 4GB or to jam a 500GB hard drive and a 512MB ATI Mobility Radeon HD 3650 GPU into the box.
The 7.7-pound MD will straddle the CPU line, with both Intel and AMD flavors available. If you ask me, the allure of the MC series was that it deceptively sold a lush style for an affordable price. The MD has a shot at polishing some of the rough edges I spotted in the MCs. Here's hoping it does.
Even more striking is Gateway's svelte new UC line, which incorporates a 13.3-inch screen and weighs a little over 5 pounds. Though its heft prevents it from qualifying as an ultraportable, it looks fairly fetching. The first things I noticed were the slot-loading DVD drive (a nice touch), the odd circular mouse pad (reminiscent of the pads on some past Panasonic ToughBooks, such as the ToughBook W7) and the bright, readily viewable 1280-by-800-pixel display. Altogether the UC combines compactness, entertainment features, and a reasonable amount of power (an Intel Core 2 Duo processor lurks inside). I'm interested to see how well the ATI Mobility Radeon 3470 GPU handles video–and how long the six-cell battery lasts when the UC is switched to Intel's integrated graphics (GMA 4500MHD) to conserve power. To me, the most surprising bit of news about this machine is its reasonable starting price of $799 when it ships this month.
If Gateway can deliver both the MD and the UC with solid build quality, you'll have two decent laptop lines to choose from for under a grand.