SanDisk added two 16 GB mobile memory cards to its Mobile Ultra line–the microSDHC and the Memory Stick Micro (M2).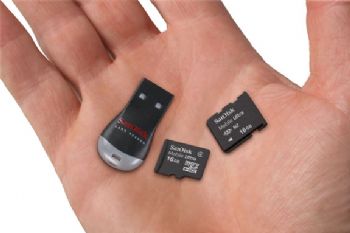 The tiny (about the size of a thumbnail) Mobile Ultra cards are designed to produce fast transfer rates of digital files card to your computer. The cards come conveniently bundled with a MobileMate Micro Reader that plugs directly into a USB 2.0-compatible port, so you don't need to buy any additional equipment.
I got a chance to test out the Mobile Ultra microSDHC card on a BlackBerry Curve 8900. I was impressed with how quickly my photos from my handset loaded onto my laptop.
The 16 GB microSDHC card will work with most newer smart phone models, while the Memory Stick Micro (M2) cards are designed for Sony Ericsson's new generation of mobile phones, all of which are compatible with 16GB capacity levels.
SanDisk will begin shipping these new cards sometime in January.
Check back for CES 2009 updates from PC World.