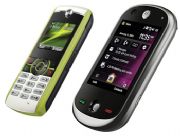 Would you buy a crap phone just because it's "green"? When a company has 350 employees dedicated to implementing a brand-spanking-new mobile OS into its devices, one doesn't really expect to see a phone made out of recycled plastic bottles. But defying any rational judgment, Motorola decided to become even more boring with its 2009 phone lineup.
As reported yesterday, Motorola went all "green" with two new mobile phones due to be released sometime this year, namely the MOTO W233 (pictured above – left) and the MOTOSURF A3100 (right). Seems like innovation is drying up over at Motorola, as there couldn't be anything more standard to these phones, that is of course, if you judge the phones and not the company's carbon offsetting policy.
As a quick recap, the W233 has a 128X128 pixels screen (1.6 inches) and can take up to 2GB microSD memory cards while the A3100 comes with a 2.8 inch touchscreen, Windows Mobile 6.1 bonanza and an omni-directional trackball. So if you have nothing special to brag about your new phones, you just play the "green" card.
Motorola says the W233 is made of recycled plastic water bottles while the killer feature of the A3100 is the 'complete-personalized home screen'. Also, the W233 has Carbonfund.org's Carbon Product Certification and its box is made of 100 percent post-consumer recycled paper.
Did I go on about the "green" bit too much? I certainly have, because there is nothing else to say about the new Motorola phones – not unbelievably thin, no special features, no super specs, just standard Moto blandness. Hopefully, Greenpeace will order some W233 stock for its campaigners. Meanwhile, I'm still waiting for Moto's first Android device.