Taking credit card payments on the road–whether it's door-to-door or on a trade show floor–can be a frustrating task. Old-fashioned mechanical readers (known as addressographs) are insanely bulky, and leave you with a mass of paper to contend with at the end of each day. Dedicated electronic card readers, meanwhile, tend to be even bulkier, and often require a power source and Internet connection to function. These hassles make the ProPay MicroSecure Card Reader look pretty inviting.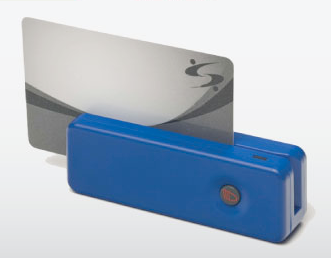 The MicroSecure Card Reader weighs in at a scant 1.4 ounces and fits into a shirt pocket. Its internal battery lasts up to 8 hours of use on a single charge, letting you store up to 71 transactions until you get back to your PC to upload and process them via ProPay's transaction processing service at ProPay.com. The reader is USB driven, and when connected to your laptop, you can use it to process live transactions as long as you're connected to the Web.
The ProPay card reader sells for $150, and requires a $5 monthly service fee in conjunction with ProPay's fairly standard account fees and transaction processing fees, which are in line with the fees of other major card processing companies. A basic account runs $35 per year.
While the card reader performs admirably when connected to a laptop, where you can enter transaction details directly into your business's customized ProPay account page, its small size does come with two inconvenient trade-offs: There's no screen, and there are no keys. So when you're taking transactions on the road, you'll need to keep receipt book with you to hand out transaction records and keep track of your actual transactions. All the card reader records is the card account data. When you get back to your computer, you'll need to key in the rest of the information for each transaction. But that minor hassle seems like a pretty reasonable trade-off for a tiny card reader that offers your customers the assurance that their card info is secure when they buy from you.