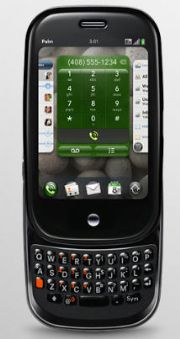 Palm today announced its long-awaited new operating system–called Web OS–as well as the new Palm Pre smart phone to match. The Pre will be available exclusively on the Sprint 3G Network in first half of 2009. The announcement was made at the 2009 Consumer Electronics Show.
As rumored earlier this week, the new phone marks Palm's effort to regain leadership in the smart phone market. Aiming for the coveted niche between iPhones and BlackBerrys, the Palm Pre with Web OS attempts to seamlessly bring together enterprise and entertainment into one device. You can see a gallery of Pre images here.
Palm did not announce pricing or an exact availability date for the Pre. (Stay tuned for PC World's in-depth look and hands-on analysis of the new phone and its OS.)
The Palm Pre Handset Specs
The Palm Pre is a multi-touch screen device with a full vertical slide-out QWERTY keyboard and accelerometer. The EVDO-capable device is Wi-Fi-enabled, and comes with GPS, Bluetooth 2.1 with stereo support, and 8GB of storage.
The Pre has a 3.1-inch size display with 320-by-480 resolution. The multi-touch extends beyond the display to the center button, which Palm calls the gesture area for launching applications on the device.
The Pre also has a 3.0-megapixel camera with an LED flash and depth and field DSP software. Additionally, the phone has high speed USB 2.0 support as well as a standard 3.5-mm headphone jack.
The phone's elegant, curved form factor is designed to comfortably fit in your hand as well as next to your cheek. The Pre is smaller in size than the iPhone and other smart phones on the market–it weighs 4.8 ounces.
The Palm Web OS
The open-source Palm Web OS strives to bring together all of the facets of a busy lifestyle and put it into one place for quick access to information with the flick of a finger.
The homescreen user interface (UI) has customizable application widgets running at the bottom of the display. Touch a widget and the app instantly pops up. All of your open applications appear on the UI as a deck of cards. Flicking from right to left and left to right on the gesture pad allows you to scroll through your "deck" of applications.
Seamless Synching
One of the most important components of Web OS is what Palm calls "synergy–synching information from various sources into one seamless application. For example, Palm's e-mail application has an All Inboxes folder–a single place to check all of your e-mail accounts.
If you start typing an e-mail contact, Web OS searches across all of your e-mail accounts–both personal and work. If the Pre can't find the contact, it searches your corporate exchange database and automatically enters it into your contacts list.
Another cool feature in Web OS is the Buddylist application. All of the contacts from your various instant messaging accounts, like AIM, Gchat or ICQ, appear in a single list. And if your buddy suddenly goes offline during a conversation, you can send her a text message to continue the same conversation without interruption.
You can also use the slide-out QWERTY keyboard to easily find information on your device–and on the Web. Start typing something and the OS automatically searches through your contacts and applications to find what you need. If it doesn't find any matches on the device, it will search the Web.
The Palm Web OS has a unique notifications application that allows you to work without interruption. If you get an IM or e-mail, a small alert pops up at the bottom of your screen. You can choose whether you want to read the message right away or save it for later. You can even pull up a small dashboard that lists all of your notifications.
In addition to the OS, Palm announced the Touchstone–a stylish wireless charger that uses inductive technology. You simply drop the Pre on the magnetic Touchstone and it stays in place to charge.
Note: When you purchase something after clicking links in our articles, we may earn a small commission. Read our affiliate link policy for more details.