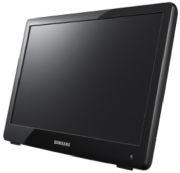 Among Samsung's new wares unveiled at this year's Consumer Electronics is the LD series of monitors. These monitors are designed specifically with notebook users in mind so they can have a seamless second display.
Samsung achieves this by removing the traditional stand and using a picture-frame-style stand instead. This way, the monitor itself sits flush on the desk, allowing the screen to be at the same level as your notebook's screen.
Additionally, the screen can adjust with your notebook screen's angle: Push back or pull forward on the Samsung LD monitor and you can adjust the angle of the Samsung LD monitor to correspond with your notebook's screen angle.
Samsung's LD Series displays use Samsung's UbiSync technology, which allows the monitor to send video through any USB 2 port on the computer instead of using a more traditional video connector such as DVI or VGA. Both displays also include a VGA connector as well, if you prefer using a regular video connector.
In addition, the LD series is designed to be energy efficient. Samsung claims that its 19-inch LD model uses 33 percent less energy than a typical 19-inch monitor.
The LD series comes in two models: the 22-inch LD220 and the 19-inch LD 190X. Both feature 16:9 aspect ratios (the same as an HDTV), with 1366-by-768 resolution.