If you've played any of the Katamari games on consoles or mobile phones, then you'll know what to expect here. The $8 I Love Katamari is a bizarre, almost indefinable game where you, as the Prince, appease the King of All Cosmos by rolling a ball around an environment. This ball sticks to items. It picks up the smallest items in the room until it gets bigger, then picks up medium objects, then large objects, and so on.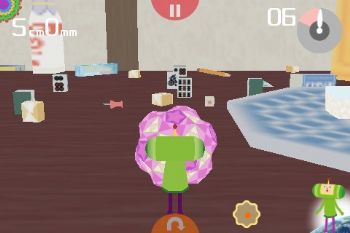 All of the Katamari games are self-contained, standalone games; no prerequisites necessary. I Love Katamari is unique to the iPhone and iPod Touch in the Western world, though it's a port of a Japanese mobile phone game. In this version, the King of All Cosmos has amnesia, and he wants you to roll up big items to bring to him, so he can remember what they are.
The ultimate object is to pick up a really big object in the room within the time limit. In the first level of I Love Katamari, it's a cat. Yep, your goal is to get stuck to a cat. All the while, the King of All Cosmos offers odd non sequiturs, such as wondering if he should get an afro haircut.
I Love Katamari plays great on the iPhone 3G 2.2, using the phone's built in tilt sensors and a few on-screen buttons to navigate around the level. There are reports of it playing unacceptably slow on first-generation iPhones and iPod Touches, so I wouldn't bother unless you have the newest model of either. If you do, I Love Katamari is silly fun.